Nagpur: Frustrated over the administration's continued negligence towards the dilapidating conditions of sewage and drainage lines in their area, a delegation of the residents from Mohan Nagar and Khalasi Line met Commissioner of Nagpur Municipal Corporation (NMC) Virendra Singh on Monday. The delegation informed that though the NMC Commissioner didn't give any assurance, they were hopeful that the issues would be taken care of very soon.
The delegation informed the NMC Commissioner that due to irregular cleaning, filth was accumulated in the sewage and drainage lines in their areas. It had further dilapidated the conditions of the drainage lines, posing a severe threat to people's health. They said the areas also received supply of impure water.
They had registered many complaints in the last four months with Mangalwari zone office of the Corporation but Ward Office Harish Raut didn't solve the problems. The said areas come under Zone 9, which has three corporators from BSP and one from Congress.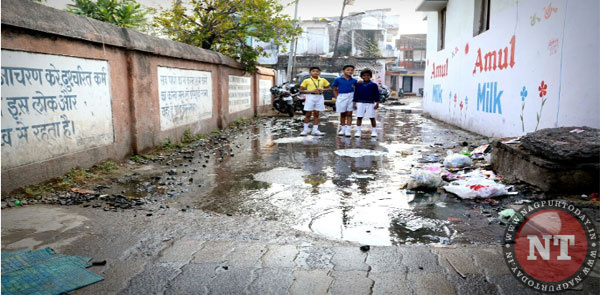 The delegation informed that the NMC Commissioner noted down their grievances and therefore they were hopeful that some action would be initiated very soon.
The delegation included Gayabai Tembhurne, Tushar Meshram, Devangana Bagde, Rahul Meshram, Vinay Sahare, Nilima Wankhede, Anil Wankhede, Shilpa Lade, Shraddha Nikose, Sharda Chouhan, Sanjay Meshram, PT Gajbhiye, CN Meshram, SN Meshram, PR Sahare, Jayshree Lade, Nilesh Walde, Ankita Sahare, Mamta Sahare, Archana Jambhulkar, Jitendra Jambhulkar, Sushma Ukey, Divya Tembhurne, Poonam Sahare, Satyabhama Ramteke, Meenakshi Patil, Urvashi Ramteke, Ranjana Jadhav, Sushila Pillai, Vaibhav Shukla, Ashok Walde, Santosh Karosiya, Pratibha Lavtare, Anita Sahare, Shekhar Jambhulkar, Komal Walde, Kavita Dongre, Madhuri Bhaisare, Snehlata Lele and others.