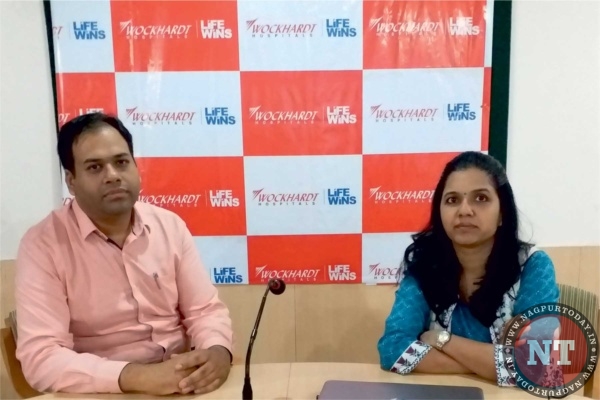 Nagpur: 19 June 2018. Successful Liver transplant surgery was performed on a 50 year old women from Mumbai. It is the 1st Liver Transplant Surgery at Wockhardt Superspeciality Hospital Nagpur. The liver transplant programme was inaugurated last month at Wockhardt Hopsitals, Nagpur. The recipient got her liver from a 33 year old man from Wardha, who was declared brain dead. The donor sustained severe brain injury post accident and was admitted at a hospital in Wardha. The donor family consented for organ donation and were able to save multiple lives with liver donation, kidney donation, skin and cornea donations.
Recipient Patient is a 50 year old female and belongs to middle class family. She was diagnosed of liver disease around 2 years ago and she consulted Dr.Gaurav Gupta, Liver Transplant Surgeon at Wockhardt Hospitals Limited. Patient is cryptogenic cirrhosis with complication of refractory ascites (Repeated water accumulation in abdomen) with multiple episodes of abdominal infections and very high MELD score. Her kidney was also affected due to severity of liver disease. She had multiple hospital admissions for these complications. She had very little time to survive without liver transplant surgery.
Wockhardt was informed about cadaver donor from Wardha on June 4th 2018. The Liver team from Wockhardt Hospitals went to Wardha on June 5th 2018 for donor surgery. With the help of city police 'green corridor' was created between Wardha and Nagpur and the team lead by Dr.Anurag Shrimal, Liver transplant Surgeon, Wockhardt Hospitals Nagpur, brought the organ(Liver) to Nagpur in a short span of one hour. Donor surgery lasted for 3 hours.
Meanwhile recipient Liver team lead by Dr.Gaurav Gupta, Liver transplant Surgeon had started the recipient transplant surgery. This surgery started at 7pm on 5th June and lasted till 5 am on 6th June.
"She was a very sick patient and has been following with me for the last many months. We feared she does not have much time left without liver transplant. Her surgery was particularly complicated because of repeated abdominal infections. She was lucky to get a very good young cadaver liver," Said Dr. Gaurav Gupta, Liver Transplant Surgeon at Wockhardt. Hospitals, Nagpur.
He further added, "we tried to limit the cold ischaemic time ( amount of the time liver is in ice outside body) to a minimum. In spite of the donor being at wardha we were able to limit the cold ischaemia time to less than 6 hours, which also helped in excellent liver graft function post transplant."
Patient underwent successful liver transplant and was admitted in special transplant room in our ICU. She recovered very well with well functioning liver graft. She was under very strict observation with two dedicated senior ICU nurses taking care of her. We insisted on strict aseptic precautions to prevent post transplant infections. In next few days our physiotherapist and dietician took excellent care of her nutrition and muscle rebuilding exercises. Currently she is recovering well and planned to be discharged this week.
Dr.Anurag Shrimal, 2nd Liver Transplant Surgeon at Wockhardt Nagpur said, "compared to other transplant surgeries, Liver transplant is more complicated. First the whole organ is removed from the recipient and a part of new liver is attached. Entire Venous connections are joined followed by portal and hepatic artery and bile duct. The recipient is transplanted with just a piece of liver which according to body requirement grows to 90% of the actual size within 6 weeks and remaining grows in another 3 – 4months"
Speaking to reporters, the Center Head of Wockhardt Hospitals, Mrs. K Sujatha said that the hospital has the required infrastructure and operation theater facilities to conduct the transplants "We have one of the best Liver Transplant Surgeons and complete in-house team of other doctors and para medical staff who worked very hard to achieve this milestone. Presently all patients go for liver transplant surgery either to Chennai, Hyderabad or Mumbai. With the state of the art facility and best team of doctors available here in Wockhardt Hospital Nagpur, these patients can hope for high end surgeries in our city itself".
Mrs.Sujatha added, "Wockhardt Team is extremely grateful to Dr.Vibhawari Dani, President ZTCC, Dr. Ravi Wankhede, Secretary ZTCC, Dr.Sudhir Tomey, Head of Liver Allocation committee ZTCC, Mrs Veena Wathore transplant coordinator ZTCC, PSI Ashwini Mahajan and ACP Jameel Ahmed for their dedication to this noble cause. Without their guidance and effort Liver Transplant program would not have been successful. I also admire and salute the strength of the donor family who at the moment of a grave personal loss thought to donate organs of their beloved to save someone else's life"
Wockhardt Hospital hospitals is a Super speciality unit and has already performed more than 120 Kidney Transplant Surgery. Liver transplant facility was most needed in Central India and Wockhardt Hospitals aims to cater to many needy patients who currently have to visit far end for a treatment.
Team at Wockhardt Hospital comprises of
Liver Transplant Surgeons – Dr.Gaurav Gupta and Dr.Anurag Shrimal
Anaesthetist – Dr.Anjali Patki, Dr.Sourabh Kamat, Dr.Swanand Melag, Dr.Awantika Jaiswal
Other Doctors – Dr.Amit Gupte, Dr.Atul Somani, Dr.Ajay Sakhare