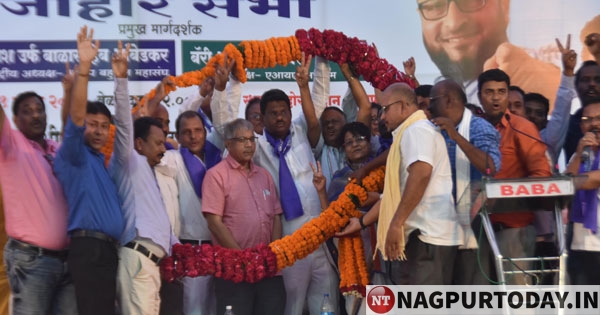 Nagpur: Bharipa Bahujan Mahasangh leader Prakash Ambedkar Monday claimed the Congress was not fielding good candidates against the ruling BJP because Robert Vadra, brother-in-law of Congress chief Rahul Gandhi, was being pursued by the Narendra Modi government for alleged irregularities.
Addressing a poll rally for Vanchit Bahujan Aghadi's Nagpur Lok Sabha candidate Sagar Dabrase here, he said PM Modi had brought about "paralysis" in the Congress on the strength of Vadra's legal tangles.
"The Congress has got paralysis and Modi will not let this paralysis heal till the elections. Today, Robert Vadra got entangled in a bail issue and is not allowed to leave the country. I want to ask, if your son gets into such a situation what would you do?" he posed to the crowd.
"So now Sonia Gandhi will save her son-in-law (Robert Vadra) or you? It is a very simple arithmetic," Ambedkar claimed, adding that the prime minister was "all out" to "jail and hang" Vadra.
A Delhi court Monday granted Vadra, facing probe in a money laundering case, anticipatory bail while imposing several conditions including that he would not leave the country without prior permission from the court.
Special Judge Arvind Kumar also directed Vadra not to tamper with the evidence or influence witnesses and join the probe as and when called by the investigating officer.
The court asked Vadra, son-in-law of UPA chairperson Sonia Gandhi, to furnish a personal bond of Rs 5 lakh and a surety of the like amount.
Vadra is facing allegations of money laundering in purchase of a London-based property at 12, Bryanston Square worth 1.9 million pounds.
"Who will Sonia Gandhi save? You or her son in law ? Who will be the priority? You or her son in law?" he repeated to the gathering.
Explaining his charge of the Congress fielding weak candidates, he said, "Why was Nana Patole brought to Nagpur (as Congress' Lok Sabha candidate) whenin the present scenario Praful Patel is not contesting from Bhandara-Gondiya and Patole would have won from there."
In an apparent reference to Union minister and sitting Nagpur MP Nitin Gadkari, Ambedkar claimed, "Patole was brought here to help someone win in Nagpur."
Answering his own question on behalf of the crowd, Ambedkar continued, "Hence, son in law is closer and not you."
Patole had won the Bhandara-Gondiya Lok Sabha seat in 2014 as a BJP candidate beating the NCP's Patel, but left the ruling party and Parliament in 2017.
The VBA leader asked Ambedkarites and followers of social reformer Jyotiba Phule and Shahu Maharaj (Maratha ruler of Kolhapur known for his progressive activities for the downtrodden) to free Nagpur from the "control" of the Rashtriya Swayamsevak Sangh.
The headquarter of the RSS, considered to be the ideological parent of the ruling BJP, is located in Nagpur.