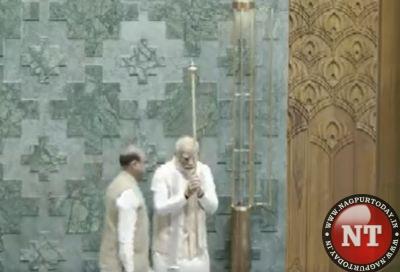 Prime Minister Narendra Modi inaugurated the new Parliament building Sunday morning and installed the scared 'Sengol' in the Lok Sabha chamber, right next to the Speaker's chair, after performing a puja.
Dressed in a traditional attire, Modi walked into the Parliament premises from its Gate No. 1 and was welcomed by Lok Sabha Speaker Om Birla
Amid Vedic chants by priests from Karnataka's Shringeri Math, the prime minister performed 'Ganapati Homam' to invoke Gods to bless the inauguration of the new Parliament building.
The prime minister prostrated before the 'Sengol' and sought blessings from high priests of various adheenams in Tamil Nadu with the holy sceptre in hand.
Modi then carried the 'Sengol' in a procession amid tunes of 'nadaswaram' and chanting of Vedic mantras to the new Parliament building and installed it in a special enclosure on the right side of the Speaker's chair in the Lok Sabha chamber.
Union ministers Rajnath Singh, Amit Shah, S Jaishankar and Jitendra Singh, chief ministers of several states and Bharatiya Janata Party president J P Nadda was present on the occasion.
The prime minister felicitated some workers who played key roles in the construction of the new Parliament building.
This is the same Sengol that was accepted by the first Prime Minister of India Jawaharlal Nehru at his residence on the night of August 14, in the presence of several leaders.
The pre-inauguration rituals started at 7.15 am, with a traditional puja with Vedic rituals, which continued for an hour. Lok Sabha Speaker Om Birla was also present along with Modi during the puja.