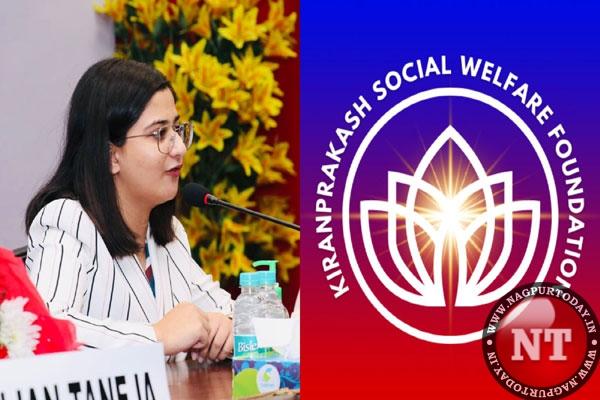 Nagpur : In a remarkable display of dedication to social welfare, Indian entrepreneur Divya Gandotra Tandon has recently established the KiranPrakash Social Welfare Foundation (KPSWF), an NGO aimed at transforming the lives of underprivileged individuals through its mission to promote Skill India and prioritize child education. Recognizing the transformative power of education and skill development, Tandon's foundation is set to make a significant impact on marginalized communities across the country.
Divya Gandotra Tandon, a highly regarded figure in the Indian business community, has long been an advocate for social change and has now channeled her passion into creating the KPSWF. With a vision to create a more inclusive society, Tandon's NGO aims to address two crucial pillars of development in India: skill enhancement and child education.
Under the Skill India initiative, KPSWF will provide comprehensive vocational training programs designed to equip individuals with in-demand skills. By focusing on areas such as information technology, agriculture techniques, tailoring, and handicrafts, the foundation aims to empower participants to gain meaningful employment or establish their own ventures. digital marketing, e-commerce, website development, social media management, and other aspects crucial for establishing and sustaining a successful online business. By bridging the gap between traditional entrepreneurship and the digital landscape, KPSWF seeks to create opportunities for individuals to thrive in the rapidly evolving digital economy.
In addition to promoting skill development, KPSWF recognizes the vital role that education plays in shaping a brighter future for children. The foundation is dedicated to improving access to quality education for underprivileged children across India. By establishing educational centers in marginalized communities and partnering with local schools, KPSWF aims to provide holistic education that fosters the overall growth and development of children. Through mentorship programs, extracurricular activities, and scholarships, the foundation seeks to unlock the full potential of these young minds and empower them to become agents of positive change in their communities.
Parallel to its focus on skill development and mentorship, KPSWF remains dedicated to enhancing child education. The foundation firmly believes that education is the cornerstone of societal progress. By establishing educational centers in underserved areas and collaborating with local schools, KPSWF strives to bridge the education gap and provide quality learning opportunities for children who would otherwise have limited access to them. Through a comprehensive approach encompassing academic support, extracurricular activities, and scholarships, KPSWF aims to empower young minds to dream big and overcome obstacles on their educational journey.
The launch of KiranPrakash Social Welfare Foundation (KPSWF) has already garnered attention and appreciation from various sectors of society. The foundation's comprehensive approach to skill development and child education is expected to empower countless individuals and communities, fostering a more inclusive and prosperous India.
Divya Gandotra Tandon's entrepreneurial spirit combined with her dedication to social welfare has paved the way for a truly transformative organization. With KPSWF's mission to promote Skill India and prioritize child education, it is poised to make a lasting impact on the lives of the underprivileged, enabling them to break the cycle of poverty and realize their full potential.