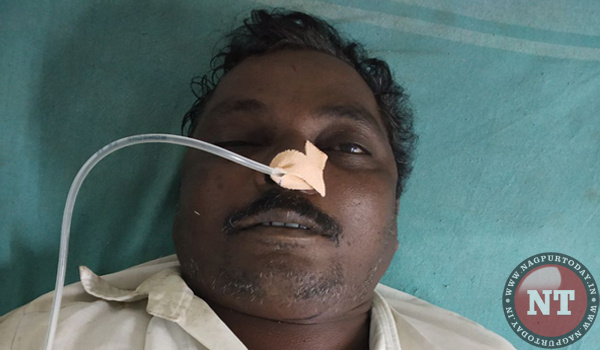 Yavatmal: If a person, in his full senses and with complete awareness blames someone for 'forcing him to commit suicide' should that person/ person(s) not be arrested?
Well, this letter written by a Yavatmal farmer before ending his life blames Modi for it.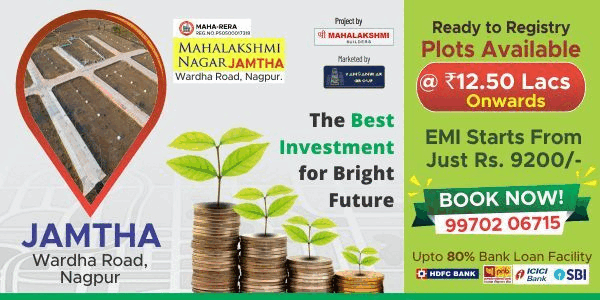 What should be done now?
The entire population of Ghatonji (almost) is right now assembled at the police station there with the body of farmer called Shankar Bhaurao Chayare, age 55, who died today after consuming poison. First he hanged himself, but the rope broke. Then he drank some pesticide; was detected in time to receive treatment at the local hospital and then District hospital in Yavtmal, yet passed away today.
His family and the villagers are demanding that FIR should be lodged against Narendra Modi and his cabinet, and a compensation of at least one crore should be given to his family.
"This is not suicide, it is murder by the government and its anti-farmer policies" say local leaders and populace.
The letter written in a very rough handwriting and almost unreadable Marathi says: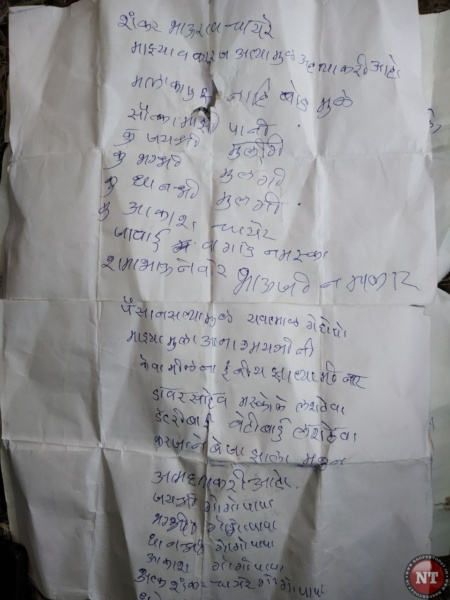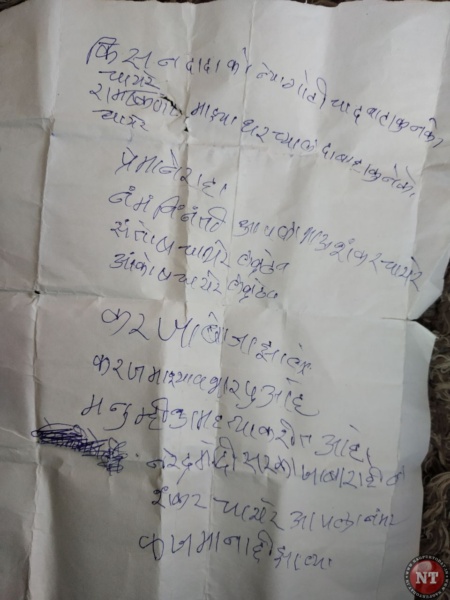 "I, a poor farmer of Yavatmal, have no money left at all. My daughters, Jaishree, Bhagyashree and Dhanashree and son Akash have no 'prospects'. " (He lovingly names all his children – his eldest daughter is in B.Sc Fina, she was hoping to appear for MPSC exams, his second daughter is in B.A part 2, his third daughter is in 2th and youngest son is in 9th. )
Adressing a Doctor as Doctorsaheb Mhaskolhe, he requests, " please look after them".
The letter is addressed to 'son in law', referring to sister's husband and many other men in the village.
The letter goes on to state, very matter of fact, " that I am committing suicide. Please inform Kisan dada of the happening. Ram Kisan who lives near my house….."( intelligible here onward)
The last paragraph states " I am unable to repay my loan. " He names two men as his creditors who obviously loaned him the money.
And then he goes on to say, very clearly and very categorically –
" I am a hard working, honest man. The Modi government is responsible for my death."
The facts of the case:
In 2016 – 17, Shankar Chayare, took a loan of Rs. 80,876/ from the co operative bank. The interest on this soon built up to Rs.16,000/.
When the C.M. of Maharashtra announced a blanket loan waiver, for some reason best known to govt officials and banks, he did not qualify for the waiver.
He thought he would repay his loan from selling his crops of cotton and Tur but infestation of bollworms damaged the entire crop.
Again, the compensation offered by the Fadnavis government of Rs. 30,800/ per hectare, never reached Chayare.
When he had lost all hope of being able to repay his loans – he had by now taken private loans to repay bank's – he thought of selling his land.
"But If I do that, how will my family survive? How will my children get education, get married and live their lives?" He thought.
He was thinking of his family, including wife and mother till the end. That is why he named so many people in his dying letter.
Devanand Pawar, Sahebrao Pawar were two of them. Devanand Pawar is Zilla Parishad member.
Now, Chayare is no more – he fought a valiant war but lost – but the rest are taking up his dying wish.
They want Modi government "punished". Not just for this farmer, but all the fraternity that is suffering from failed promises and inhuman attitude towards them.
Chayare's daughters names mean, Success, wealth and fortune.
All these remained pipe dreams for this man.