Modi government catered to self-interest in Rafale deal: Priyanka Chatruvedi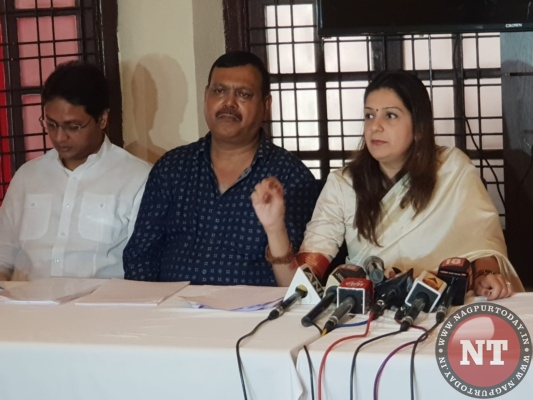 NAGPUR: Targeting the Centre on the 2015 deal to purchase 36 Rafale fighter jets from France, the Congress on Sunday accused the Narendra Modi government of ignoring the national interest and catering only to its self-interest.
It quoted from the 2016 annual report of Dassault Aviation and a press statement of Reliance Defence Ltd, the local partner chosen by the French firm to meet its 'offset' obligation under the contract, and alleged Prime Minister Modi had made the announcement of "off-the-shelf" purchase of the fighters in Paris after paying an "extra amount".
"Rafale is a scam and the government is in scam. Indians feel deprived while the BJP ensured that crony capitalism thrived. Instead of protecting India's interest we have the Modi Sarkar protecting their self-interests," Congress spokesperson Priyanka Chaturvedi said in a Press conferance in Nagpur. She was joined by Youth Congress leader Vishal Muttemwar who along with Pradeep Maitra of Press club of Nagpur was present.
"The prime minister announced off-the-shelf purchase of 36 Rafale aircraft in Paris on April 10, 2015 for euro 7.5 billion (Rs 1670.70 crore per aircraft which is Rs 60,145 crore for 36 aircraft," Chaturvedi said.
India signed an inter-governmental agreement with France in 2015 for 36 Rafale fighter jets in 'fly-away' condition.
The president of the ruling BJP, Amit Shah, on Friday rejected allegations of corruption in the Rafale deal, saying credence should be given to Defence Minister Nirmala Sitharaman's statement.
Shah said, Sitharaman has said the base price of Rafale fighters negotiated by the government is less than what was finalised by the previous UPA dispensation.
But the Congress leader said when the international bid opened on December 12, 2012 for Rafale jets, the price negotiated by the UPA government was Rs 526.10 crore per aircraft for 126 aircraft.
As per the UPA deal, the price of 36 aircraft would have been Rs 18,940. Chaturvedi demanded an explanation on why an extra amount of Rs 41,205 crore of the public money is being paid for the jets.
She claimed that by announcing the deal in 2015, Modi had violated the mandatory "Defence Procurement Procedure".
She asked why the prime minister and the defence minister were averse to placing the details of the commercial purchase price before Parliament.
The government has said that a secrecy clause in the 2008 pact between India and France prohibits it from disclosing the pricing details in the purchase of the Rafale fighter jets.
Experts describe the Rafale as a twin-engine "air-dominance" aircraft. In French, "Rafale" means a gust of wind.