AICC Secretary Bala Bachchan declares candidature of Muttemwar from Nagpur LS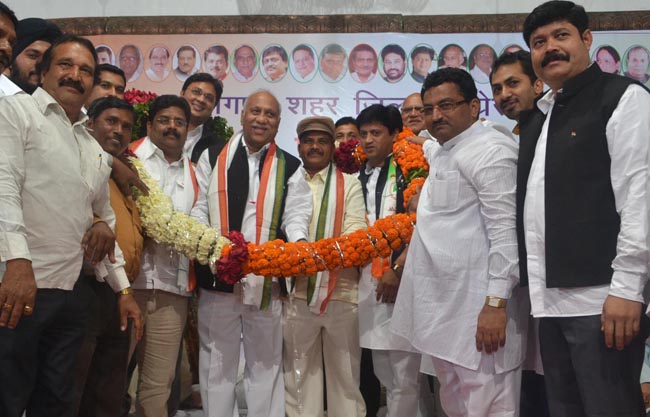 Nagpur News : Nagpur Congress Committee virtually launched its election campaign for Lok Sabha at Nagpur on Sunday with All India Congress Committee Secretary and Maharashtra co in-charge Bala Bachchan stating that party has decided to field Vilas Muttemwar for fifth term from Nagpur. Though official announcement is awaited, the declaration by AICC Secretary who is co in-charge of Maharashtra assumes significance.
Muttemwar has secured four consecutive victories from Nagpur Lok Sabha constituency since 1998.
Nagpur MP Vilas Muttemwar, Minister of State Rajendra Mulak. former Guardian Minister Satish Chaturvedi were present as guest of honour. The party felicitated newly appointed City President Vikas Thakre.
Muttemwar attacked BJP Prime Ministerial Candidate Narendra Modi for misquoting historical events in a public meeting held at Arunachal. It may be mentioned that Modi stated in a meeting at Arunachal that Lord Krishna from Dwarka (Gujarat) married to Rukmini from Arunachal,so Arunachal and Gujarat had a relationship from thousands of years.
Muttemwar was addressing party workers of West Nagpur in a function organised at Bal Sadan on Sunday.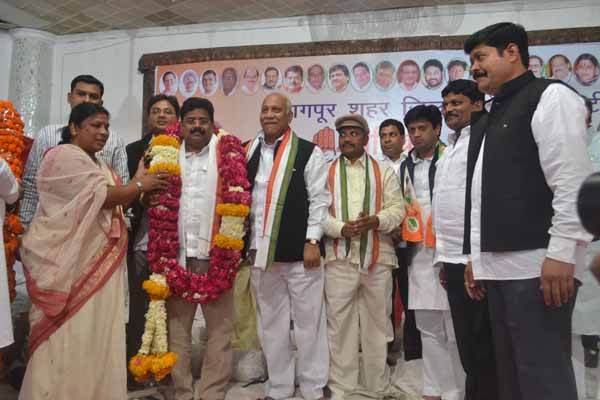 Muttemwar said that Modi does not have any knowledge of history and seems to have never read any book on Krishna. It was well known fact that Rukmini belonged to Amravati in Vidarbha Pradesh. Amravati has a temple dedicated to Rukmini. He blasted BJP's probable candidate Nitin Gadkari and added that MP is indulging in vulgar display of wealth and show off by undertaking campaings like one note and one vote.
Bala Bachchan said that Party has decided to give chance to Vilas Muttemwar from Nagpur for fifth term.
All Congress workers should unite for historical win from Nagpur and Vidarbha and party will regain its seats in the region.
Satish Chaturvedi said BJP is known for corruption at all the levels. The Congress workers will teach them great lesson in ensuing Lok Sabha election. The party will flourish under leadership of Vikas Thakre. He also blasted uninterrupted water supply scheme launched by NMC in the city.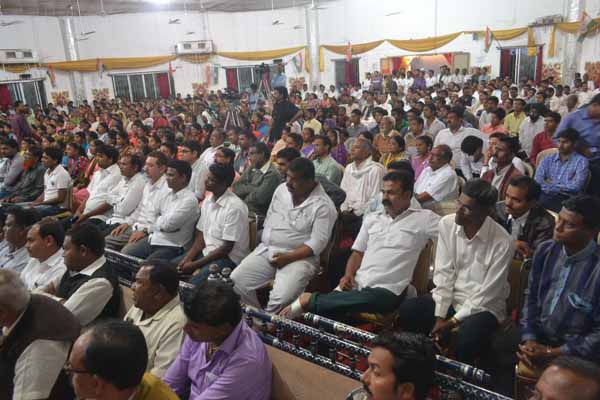 Replying to felicitation, Vilkas Thakre assured to work hard for the success of party. The party has given me great responsibility before election, and I will work hard for victory of party in Lok Sabha, Vidhan Sabha and corporation elections.
Former City President Jaiprakash Gupta, Sheikh Hussain. Gev Awari were also felicitated by party workers. Party workers Vishal Muttemwar, Kishor Jichkar, Dr. Prashant Chopra. Glianshyam Mange, Raju Kamlani, Deva Usare, Arun Dawre, Saraswati Sabine, Sheelatai Mohod. Padma Uike. Meena Barde, Dilip Gwalbanshi, Asim Naved, Deepak Wankhede. Sunil Chopda, Qwais Qadri, Anjum Kayyum. Sanjay Saraykar, Nitin Gaur, Imran Seth were present. Dr. Gajraj Hatewar compered the programme.