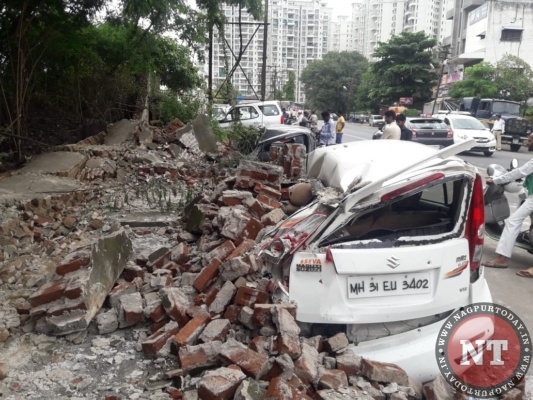 Nagpur: At least three cars and 2 two-wheelers were badly crushed when a major portion of an age-old wall of Model Mill collapsed in Ganeshpeth at around 12 pm on Tuesday.
Fortunately none of the passengers were aboard the cars or riding two-wheelers when the mishap occured. The vehicles were parked along the wall of Model Mill on main road in Ganeshpeth area. Sources said that the boundary walls of entire mill are in dilapidated condition and may come crashing anytime soon.
Immediately after the incident the NMC Assistant Commissioner, Dhantoli Zone, AC Kale reached the spot along with anti-encroachement squad.
At the time of wall collapse there were few onlookers present near the spot. These youths informed that initially they were shocked to see the wall getting tilted from one end and suddenly came down. Few material kept beside the wall were also damaged.
Traffic also remained suspended for few hours after the wall collapse.
Sources reported that the entire stretch of wall from Model Mill square to ST Stand is on the verge of collapse. The citizens residing nearby have appealed to take timely action and demolish the aged walls before the next tragedy hits them.