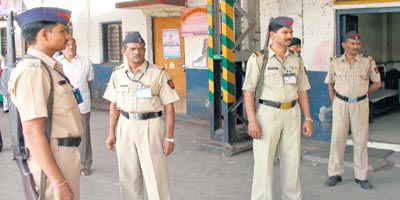 Nagpur News : Government Railway Police (GRP) arrested three youths from Mominpura for allegedly stealing mobile phones of railway passengers. Police said that their modus operandi include was to snatch the cell phone while the person is talking on phone or snatch from the person talking at the door.
PI Raja Pawar along with a team headed by PSI Nitin Rajkumar nabbed the youths while investigating a case of stolen mobile of Aradhana Mishra. Her cell phone was stolen in September from GT express while she was talking to someone and a thief snatched it away.
Police said that the GRP team with the help of cyber crime branch tried hard to get the location of Mishra's cell phone. On constant efforts, cops learnt that the cell phone is in the name of Abdul Gaffar. On interrogation, he told cops that he has bough the phone from a person named Kasish (20), a resident of Mominpua.
Later, police nabbed Kasish who during interrogation spilled the names of his partners, Imran Ansari (19) alias Ding and Taufiq Hasan (19) alias Hira, both residents of Mominpura. Police has seized seven cell phones from them. The trio admitted that they would steal the phones and sell them off to earn easy money.
Revealing one of their tricks, they told police that they would keep a watch on a person engrossed talking on cell phone. Later, either they would call him aloud or would hit his hadn with stick so that they would catch the phone or snatch it. Majority, they would target the people when the train just start taking its speed or else at the exit of the railway station.