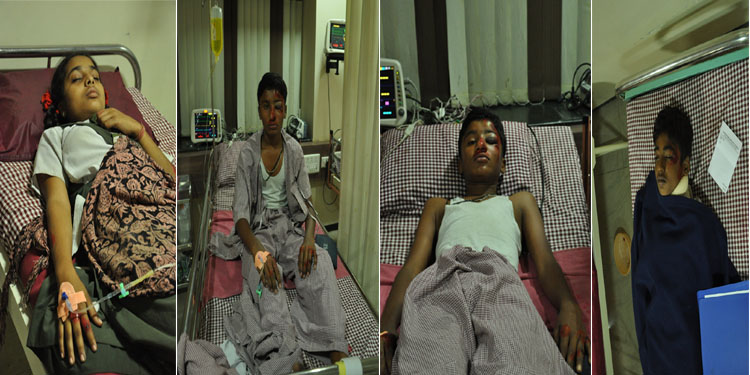 Nagpur News: An irate mob went on rampage thrashing the truck driver to death after he knocked dead a 15-year-old school boy and injured his seven friends including two girls walking with him. Heavy police force was called to control the mob at ACC square in Ganeshpur on Wardha road near Butibori, where the accident took place on Thursday evening.
Onlookers claimed that the driver, Vinayak Shendre (50) was heavily drunk and was not able to control the vehicle hat result in the mishap. "The truck driver was driving in zig-zag manner. A group of eight school children were walking to their home from school. They were walking in two rows at the road side when the truck driver knocked them from rear killing one at the spot," said an eye witness, who refused to be named. The truck was unloaded and Shendre was heading from Butibori to his residence at Ruikhair, few kilometres away from Ganeshpur.
Akshay Dhoke, a standard IX student, suffered head injuries and was killed on the spot. Rest of his friends were thrown on the road. All the children were students of ninth standard and were walking home from school.
Eye witness informed that after hitting the children, Shendre was trying to flee with his truck. "Onlookers chased him to few distance and nabbed him," said a villager. He told that daily, many villagers gathered at ACC square for a cup of tea or chatting.
One among the mob immediately alerted the police control room. However, before the police could arrive, the violent mob trashed him ruthlessly making him very weak and fell unconscious.
"Shendre was drunk and hence could resist to the injuries. Since he was not responding well, we rushed him to nearby rural hospital where he was declared brought dead," said SP Manoj Sharma.
He added that the villagers didn't pelted stones on Shendre.
Among eight injured, four children-Chandan Mandal, Komal Rai, Rahul Daheriya and Pragati Gupta- are under going treatment at a private hospitals in city. They are stated to be out of danger.
Villagers said that the mob was about to set the truck on fire but police intervened and prevented the situation form getting worst.
In view of growing tension, police used mild force to disperse the crowd. Later after few hours, the situation was brought under control and the traffic was smooth.
Jagdish Mandal, who rushed the injured teenagers to hospital in his car, said that children were thrown like papers on the road. Jagdish's relative Chandran and Komal are among the injured. He owned a factory in Butibori.
He told that he had no idea about the accident when he saw the boys lying on the road. "I had to have a cup of tea there when I saw them on road. I though the children are playing prank. I saw Chandran and shouted at him to get up but he didn't responded. I walk closer and found him injured and others as well," said Mandal, a resident of Ganeshpur.
He told that while few people were chasing the truck, he immediately took the children to nearby rural hospital. Two were discharged after preliminary treatment while one Tabassum Khan is recuperating at the rural hospital.
Mandal informed that the school named Nishapani is at Takalghat, around 4.5 kilometres from Ganeshpur. He claimed that earlier there was ST bus service but since the service was terminated this year the children would regularly go on feet. Akshay's body was sent for post-mortem at the mortuary of Government Medical College and Hospital. Akshay's father, Charandas, is a farmer and also owns a grocery shop. Villagers informed that Akshay has elder brother and sister. His parents have given the elder son on adoption to his brother and now after Akshay's death, they are left with one 16-year-old daughter.
Police has registered two cases of murder and accident. However, no arrest has been made till late night.
Sharma said that since it was a mob, it's difficult to identify the killers. "We are waiting for the villagers to clam down and later the arrests will be made," he said.