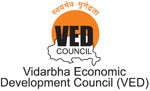 Nagpur News:  For making Vidarbha self-reliant and self-sufficient in dairy nd dairy products, the Vidarbha Economic Development Council (VED) held two workshops which resulted in some poeple taking up dairy farming. VEd hopes this would bring prosperity to Vidarbha without having to depend on outside help. As follow-up of these workshops, VED has started free consultation on the 2nd and 4th Saturdays of evey month from 11.00 am to 12.00 pm for farmers, dairy farmers, Self-Help Groups and entrepreneurs and for those interested in starting dairy farming or increasing yield.
The first such constultation was well attended and was a good starter. Mohan Shrigiriwar, VED Member, is in charge of all dairy matters and is dedicated to the cause of dairy development, its potentials and opportunities that could lead to prosperity in this region. He feels there are still a lot more people who need to be motivated in this region about this source of income. It is very important for the poor farmer of Vidarbha to find an alternative to farming, a failure in which has lead to suicides among farmers. He also felt that a farmer could supplement his farming income through the dairy business which would improve his lot.
Those interested are welcome to avail of this opportunity on Saturday, 10th Nov from 11 am to 12 pm. There are indications already that people are looking forward to this. This initiative of VED's is a gesture which could go a long way in providing a better life to the rural people of Vidarbha as dairy farming business could work wonders in providing an additional income to our rural populace.
The venue for the free counselling is the VED Office, Gokul-Gopal Enclave, (Behind Babasaheb Ambedkar's statue), Mate Chowk, Nagpur – 440022.
Ph: 0712-2240665/ 2240632 email – info@vedcouncil.com
Shri. Mohan Shrigiriwar – Mobile – 93715 11699 mohanshrigiriwar@gmail.com