The Guardian Minister Shivajirao Moghe, who was also part of human chains,  aptly compared  the cleaning of Nag Nadi to that of cleaning of souls of the citizens of the glorious Nagpur city.
Nagpur News:
The event in great mythological epic Ramayana  wherein Lord Ram, with the help of Lord Hanuman and his Vanar Sena, constructs a Setu (bridge) by putting large stones in the sea to reach Lanka and fight with Ravana and his Rakshas Sena which ultimately leads to killing of Ravana. This victory is termed as "Victory of good over Evil" and is celebrated as "Vijaya Dashami" (Dussehra). The Nagpur citizens, taking a cue, in large number including eminent personalities formed unique human chains at various points under Nagpur Municipal Corporation's (NMC) "Mission Nag Nadi Cleaning" on May 1. "Mission Nag Nadi Cleaning" was started from Ambajhari T-Point, the source of Nag Nadi.
This time the "Victory of good over Evil" is not for fighting any "Rakshas" but to clean and beautify a sort of Evil the utterly polluted Nag Nadi.  The first human chain was formed at Ambajhari T-Point, the source of Nag Nadi, to Shankar Nagar Square to Alankar Cinema to University Library to Jhansi Rani Square to Munje Square to Anand Cinema. The second one took place from NMC's Dhantoli Zone to Sardar Patel Square to Baidyanath Square to Ashok Square to Lokanchi Shala to Jamdar High School to Jagnade Square to KDK College. And the third human chain was formed from Wardhaman Nagar Square to Pardi Railway Crossing to Pardi Naka (Outpost). The total length of the human chains was a massive 17 kilometers.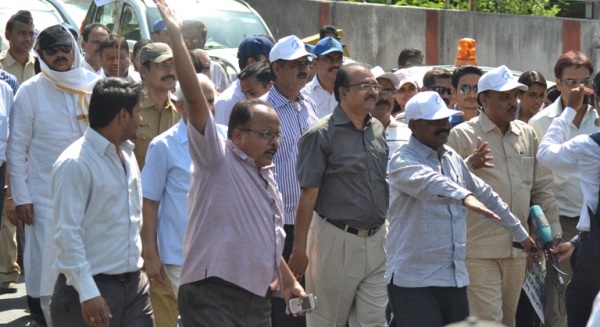 The Guardian Minister of Nagpur District Shivajirao Moghe, Mayor Anil Sole, NMC top bosses including Commissioner Shyam Vardhane, and thousands of eminent citizens including Khadi dressed veterans, women and children formed the human chains with gaiety and fervour.
The Guardian Minister Shivajirao Moghe greatly appreciated the NMC's "Mission Nag Nadi Cleaning". He said he is feeling proud for participating in the mission being the Guardian Minister of Nagpur District. Moghe aptly compared the cleaning of Nag Nadi to that of cleaning of souls of the citizens of this glorious city.
He further said, if the human beings or citizens of city neglected and polluted the water sources the first victims of the negligence would be the citizens of the city as far as bad effects of unclean and utterly polluted water sources main being the health problems in big proportion. He was talking to media after participating in the "Mission Nag Nadi Cleaning" campaign.
The First Citizen of Nagpur, Mayor Anil Sole asserted that it is the duty of citizens of Nagpur to create good atmosphere for good health by keeping the city clean and neat by basic responsibility as well as face bad situations on various fronts during all seasons of the year. "Appreciating the good is also our moral responsibility and making good the bad ones is part of our live, the Mayor asserted.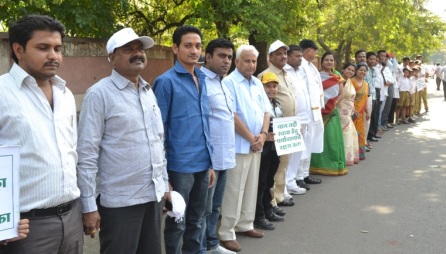 Sole said the issue of cleaning the Nag Nadi has been raised by a massive numbers of people from all strata of society and now it has become responsibility of NMC to take the task in their hands and strive for giving the Nag Nadi a clean and beautiful river with natural colour. By participating in great number the citizens have proved that they are the landlords as well as protectors of the city, the Mayor proudly said. He said the campaign would last till 15 days with cooperation of the citizens and asserted that the mission would be great success.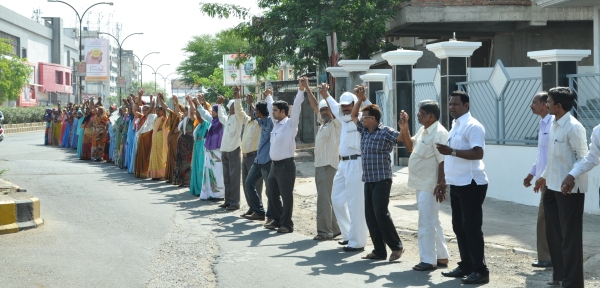 The following personalities who participated in the "Mission Nag Nadi Cleaning" besides Guardian Minister Shivajirao Moghe and the First Citizen of Nagpur, Mayor Anil Sole include Deputy Mayor Sandip Jadhav, Standing Committee Chairman Avinash Thakre, Opposition Leader in NMC Vikas Thakre, NMC Commisioner Shyam Vardhane, MLA Sudhakar Deshmukh, Divisional Commissioner B V Gopal Reddy, District Collector Saurabh Rao, former NIT trustee Pravin Barde, NMC Jornalists' Association President Vivek Joshi, Additional NMC Commissioner Hemant Pawar, Corporators Prakash Gajbhiye, Parinay Fukey, Ajay Patil, District NCP Secretary Srinivas Viyanwar, Garden Superintendent (NMC) Nareshchandra Shrikhande, Junior Engineer Rajesh Dupare, MP Ajay Sancheti, MLAs Dinanath Padole, Vikas Kumbhare, MLCs Nago Ganar, Mitesh Bhangdiya, NIT Chairman Pravin Darade, Pravin Datke, Jaiprakash Gupta, Munna Pokulwar, Girish Gandhi, Prakash Totwani, Ashis Deshmukh, Assistant Commissioner of Octroi Department Mahesh Dhamecha, Guddu Tiwari, Ramesh Singare, Vinod Ingole, Chetna Tank, and other prominent citizens and thousands of common people.