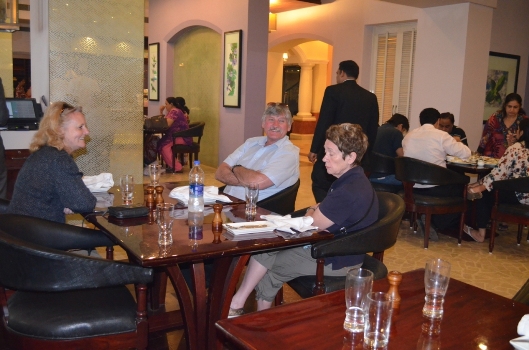 Nagpur is now on the lines of growth. People across the country visit Nagpur for several reasons including business, surveys, for winter sessions , tiger attraction or a cricket match . When these visitors come, they look for dandy, delicious, delightful, enjoyable, nice and satisfying food. So where should they go?
Mint Leaf– Tuli Imperial is the answer!
Mint Leaf is a 24×7 coffee shop where one can get coffees, shakes , juices ,sandwiches, burgers, pizzas etc. A buffet having more than 170 dishes is open for lunch and dinner.
Ambience (9/10)
Ambience is classy, colors on the wall are good for eyes, and décor on the walls tells its own story but creates a feel of a heritage vision. Asking the Corporate Chef ,General Manager & Vice President of Tuli group of hotels Mr. Khosla answered that anyone who comes here will get a feel of a difference. The trend of coffee shops is also changing and I just don't call it a coffee shop but an international restaurant.
Service (9/10)
The welcome at the entrance of the restaurant is where your are greeted with the Indian way of welcoming- Namaste. "The fingers point the visitor and the thumb points the one who is greeting, ensuring that we welcome you from heart", adds Corporate Chef ,General Manager & Vice President of Tuli group of hotels Mr. Khosla . One extra mark has been given for the reason of getting hot and crisp breads made on Tandoor ,Pizza in a microwave and some of the dishes in the exclusive live kitchen which is very much a part of the Mint Leaf. One must not have the wrong impression of Mint Leaf being an expensive coffee shop; it's not expensive and rather affordable.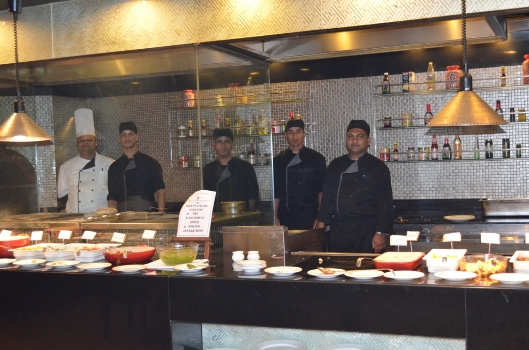 Food (9/10)
You name the food and you get it here. It is said that it is not everyone's cup of tea but here even tea can is made in a number of ways. You get all types of food out of which some of them never heard, never eaten but this trail gives you a pleasure of a lifetime. Mr. Khosla proudly says," If you have a passion to eat then only can you have the passion to cook. And we have both." This applies especially to ladies because as it's know to everyone, the way to a man's heart is through his stomach.
Verdict: (9/10)
Surely this is not a dream but some luxuries can also be bought and lived by a middle-class man, who works the entire month and wants to visit a restaurant which has good food,a classy ambience and a memory to take back home. In the heart of the city is a classy restaurant which can give you an impression of luxury, lavishness, magnificience, opulence, ostentatious living and dining. Mint Leaf leaves you with a beautiful memory.
:Yash Raj Trivedi