Grand Masti: Strictly Adult and Crass comedy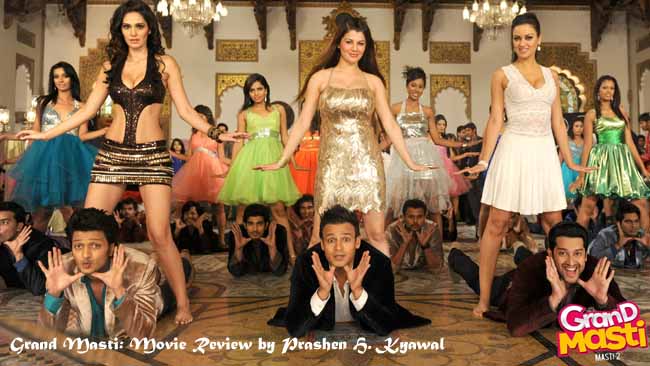 Director: Indra Kumar
Running time: 140 minutes
Music composed by: Anand Raj Anand
Screenplay: Indra Kumar
Cast: Riteish Deshmukh, Aftab Shivdasani, Vivek Oberoi
There was a time in bollywood when "Maruti International" was synonymous to superhit movies. With Indra Kumar and Ashok Thakeria at the helm of the production affairs and under the direction of Indra Kumar, Maruti International ruled a decade from their first movie "Dil" in 1990 to "Mann" in 1999. 5 films in 1 decade with Amir Khan in 3 films as lead hero. I think no other production house has produced so many movies with Amir Khan in it. Madhuri Dixit was also a big name supporting them. Infact, Madhuri has her iconic song "Dhak Dhak Karane Laga" in "Beta" released in 1992. The movies were typical bollywood potboilers with the known formula of masala movies. They were huge success due to their entertainment value, comic quotient, songs and dance.
With the start of the millenium, films by Indrakumar went unnoticed till "Masti" in 2004. Masti was an average hit with super hit song "Dil De Diya Hai Jaan Tumhe Dege" by Anand Raj Anand. After that with films like Pyare Mohan, Dhamaal, etc. Indrakumar is successful in keeping the production house in business. I infact liked the film "Dhamaal" released in 2007. Though "Masti and "Dhamaal" were moderate hits, Indra Kumar decided to make sequel of them keeping with the current trend of releasing sequel of successful movies in attempt to encash their brand names. Dhamaal had sequel named "Double Dhamaal" and nowthis friday "Grand Masti" released which is sequel of "Masti"
This film is a no holds bar attempt to create an adult comedy. They promised an unadulterated adult comedy but are they successful in delivering the promise?
Most of the Indra Kumar films have thin plot lines without worrying about story and script. They rely mostly on gags and pranks and he is mostly successful in delivering good entertainment while doing so. But this movie has the thinnest or almost none plot or story. It is a story of 3 college playboys who are faced with dull and dreary boring life after marriage. Aftab Shivdasani (Prem) is married to Manjari Fadnis who is always busy in household work, Vivek Oberai (Meet) is married to workaholic Karishma Tanna who never has time for him and Riteish Deshmukh (Amar) is married to Sonalee Kulkarni who is busy taking care of their kid. With such busy life having no time for love (read sex), these 3 frustrated husbands get a respite when they get invitation for college reunion (The acronym of the college name is SLUTS). They decide to attend the college reunion and re-live their life as a playboy in college. They are happy to meet 3 hot girls at the college named Rose, Mary, Marlow played by Maryam Zakaria, Bruna Abdullah, Kainaat Arora respectively. However, things do not go as planned and they are caught in funny (?) and dangerous situations to realize in the end that they should stick with their wife and be a loyal husband.
Story by Tushar Hiranandani and Milap Zaveri does not have much meat in it. However they try to save it by gags and pranks which sometimes work and otherwise do not work. Dialogues by Milap Zaveri redefines what "under the belt" means and are crass at many places. Nevertheless they do get laughter and applause by the full house audience who I am sure amused to find such kind of adult SMS humor onscreen. So the applause may be in the amusement rather than comic quality of the dialogues and scenes. Some scenes are visually under the belt and test the patience of audience who expect at least some level  decency in onscreen happenings (such people must be in minority as the response at box office says otherwise).
Director Indrakumar tries to do what he is best at doing and that is sewing these pranks and gags together to make it look like at story. However, the film does not have much grip and a good movie lover will not be happy with this product by the director. Indrakumar surely needs to rethink his strategy for comedy and shift back to his earlier formula of family entertainers.
On the performance side the film fails flat except the leading trio who tries to lift the film with their energy. All the 6 leading ladies do cringeworthy acting and are just (sexy) props in the (vulgar) pranks. They are mostly clad in skimpy clothes and have to act horny. Suresh Menon has most C grade role in which he has totally wasted his talent. Other supportive cast is equally average and over the top.

Editing Sanjay Sankala is ok but could have been snappier. Production value of the film is good. Cinematography by Rituraj Narain is decent.
The film is getting good response from the public and young crowds (many can be lower in age than 18 even if the film is A rated by censor) are watching it in groups. Couples are also watching it for guilty pleasures. However, it will be unfortunate if this box office success creates a string of such films in bollywood.
The makers of the film had promised to give India its own "American Pie" kind of movie. If they are happy with their product they need to re visit those movies. They surely got wrong ideas and have put a crass, vulgar and totally below the belt comedy on screen. I am all open and welcome adult comedy genre but expect the makers to focus more on stronger script and clever dialogues. This movies lacks all this and makes "Kya Kool hai hum" and "Masti" look like classic comedies.

Recommendation: If one enjoys senseless adult jokes and vulgar pranks or have a gang of friends which can turn worst movies into funny entertainment, do watch it. Movie lovers expecting onscreen decency and cleaner entertainment shall strictly avoid this movie. Movie MUST not be watched with full family though couples can watch it if they are ok with such type of comedy.