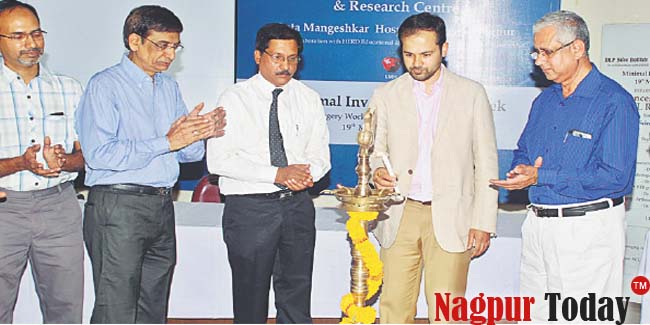 Nagpur News: The department of ophthalmology in NKP SIMS and Lata Mangeshkar Hospital (LMH) had organised 'minimal invasive surgery workshop' under 'Captivating Cornea' on May 20. Chairman of Vidya Shikshan Prasarak Mandal, Academy of Higher Education (VSPM AHE) Ranjeet Deshmukh inaugurated the workshop. Vikas Mishra was the chief guest, while product executive of Lokmat Group Matin Khan, VSPM AHE secretary Dr Amol Deshmukh and NKP SIMS dean Dr S Dasgupta and Ms Rupatai Deshmukh were seated on the dais.
Vikas Mishra, while addressing the inaugural function of a workshop praised the services available for common people in the LMH. As medical sciences have developed immensely it should provide better options to patients, he expected. Matin Khan also spoke on the occasion.
The programme started with lighting of traditional lamp by the dignitaries. It was followed by a power point presentation about the institute since its inception in 1990 till date.Dr Dasgupta briefed the audience about minimal invasive workshop and its importance .
Dr Amol Deshmukh stressed on the need of changes in medical curriculum to give a holistic approach to teaching. Ranjeet Deshmukh appreciated the efforts of dean and all the teachers of LMH for making the workshop feasible.
Live surgery workshop and symposium on advances in arthroscopic ACL reconstruction department of orthopaedics, NKP SIMS and LMH successfully conducted CME on recent advances in arthroscopic ACL reconstruction on May 19. This activity was conducted as a part of ongoing 'minimal invasive surgery week'.
Anterior cruciate ligament injury is one of the common ligament injuries requiring surgical management. Recent advances have changed the way of treatment of injuries. The academic session started with interesting case discussion by Dr Samir Dwidmuthe. The discussion was focussed on management of knee dislocation, acute knee injury and decision making in acute knee injury. Dr Satyajeet Jagtap talked about changes in concept of ACL reconstruction surgery over the years and recent concept of anatomic and double bundle ACL reconstruction. Dr Jagtap staged live demonstration of arthroscopic anatomic ACL reconstruction. Moderation of the case was done by Dr Devashis Barick.
Dr Nibedita Nayak discussed how to read MRI of knee joint. Dr Vaibhav Bagaria made video presentation of procedure of harvesting patellar tendon graft for ACL reconstruction. Dr Sanil Koyril from VSPM college of Physiotherapy delivered talk on role of physiotherapy after ACL reconstruction surgery.
The guest faculty interacted with delegates on different topics of their concern. CME was attended by 50 orthopaedics surgeons in Vidarbha region. Dr Anil Golhar, Dr Sushil Mankar, Dr Vikram Sapre, Dr Samir Dwidmuthe and staff took efforts for success of the program.
Dr Amit Nemade and Dr Nilesh Joshi coordinated the proceedings while Dr Mankar thanked all for success of the event. Secretary of VSPM AHE Dr Amol Deshmukh lighting the lamp as NKP SIMS dean Dr S Dasgupta and others look on.