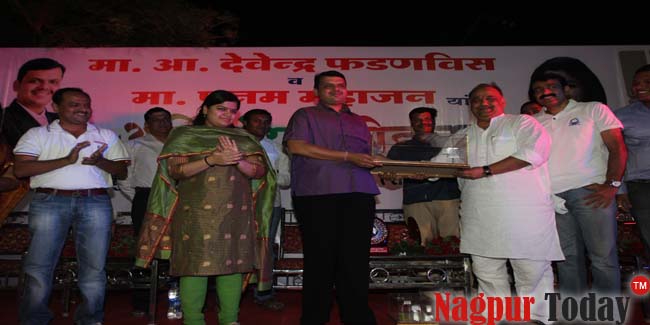 Nagpur News: Dharampeth Krida Mandal (DKM) felicitated president of Nagpur District Basketball Association (NDBA) Devendra Fadnavis for being appointed as president of Maharashtra BJP at a function held at DKM court in Shankar Nagar on Monday.
On the occasion Poonam Mahajan was also felicitated for being named as national secretary of BJP. Both the dignitaries m were felicitated at the hands of Rajya Sabha member Ajay Sancheti.
In addition two city players Anushree Kaloti and Rucha Aurangabadkar will also be felicitated for being part of the Indian probable team.
Anushree was included in the Indian probable list for the U-19 world schools tournament while Rucha attended the Indian preparatory camp in the U-13 category. Both these future stars will be feted by NDBA president Devendra Fadnavis.
Similarly, three current national players Vihang Tapas, Mugdha Amraotkar and Anushree Kaloti were felicitated at the hands Ajay Sancheti.
Vihang was a part of the Maharashtra squad for the junior national 3×3 championship held at Ludhiana while Mugdha and Anushree took part in the youth national championship held at Kolkata.For achieving the second place by sub junior girls team in the recently held state tourney, all the 12 members with coaches were feted by Poonam Mahajan.
For their achievements all the players were given mementos along with gift vouchers sponsored by Bombay High.
The 15 members of Nagpur girls U-13 team will be given voucher worth ` 500 while the five players who had national achievements will be handed vouchers worth ` 1000.