MIM and Marathas to take out Morcha to press their demands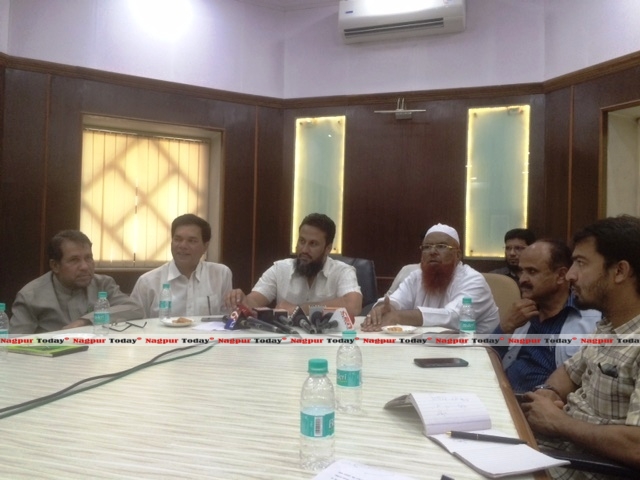 Nagpur: The Nagpur Core Committee of the All India Majlis-e-Ittehadul Muslimeen and the Marathas will be taking out a Morcha to Vidhan Sabha on December 14, 2015 to press their various demands.
The members of the Core Committee of Maharashtra All India Majlis-e-Ittehadul Muslimeen (AIMIM) including Advocate Vilas Dongre from Nagpur, Pundit Borde from Aurangabad, Ibrahim Ali Abu from Nanded, Dr Abdul Gafar Kadri from Aurangabad, Maulana Mehfooz Rehman Farooqui, Anjum Inamdar from Pune, Advocate Mohammed Ali Sheikh, Salman Haque from Nagpur and MIM Maharashtra In-charge Janab Syed Moin Mukhtar from Nanded addressed the media personnel on December 13, 2015.
According to MIM Maharashtra In-charge Janab Syed Moin Mukhtar, who spoke in chaste Urdu said that they are taking out a Maha Morcha to press three main demands.
1. Maratha Community and Muslim Community should be given reservations
2. Total Liquor ban in Maharashtra
3. Establish Maharashtra WAKF Board.
Janab Moin elaborated that both the communities of Marathas and Muslims in Maharashtra are denied proper facilities to Educational, Economic, Political and Social aspects. He claimed that The Rajinder Sachar Committee, appointed in 2005 to prepare a report on the latest social, economic and educational conditions of the Muslim community of India strongly suggested that the policies to deal with the relative deprivation of the Muslims in the country should sharply focus on inclusive development and 'mainstreaming' of the Community while respecting diversity. There is an urgent need to recognize diversity in residential, work and educational spaces. This is only possible when the importance of Muslims as an intrinsic part of the diverse Indian social mosaic is squarely recognized.
Mohammad Ur Rehman Committee who also made recommendations for reservation for Minorities in Maharashtra. The Committee had recommended reservation in education and employment for Minorities especially Muslims.
He opined that there is an urgent need to educate the Maratha and the Muslim children. Though he agreed that except for a few people of the community, there is a major chunk of people from the Muslim and Maratha community who need reservations in social, economic and educational fields.
Urgent need for total liquor ban in State
Janab Moin went on to claim that Liquor has been the sole cause for the destruction of innumerable lives, families of Maharashtra. Liquor addiction has devastated umpteen families in villages of Maharashtra. He went on to claim that
While water is not made available in many villages, liquor is certainly made available.
He claimed that for the few thousand crores of revenue generated through sale of liquor, the Maharashtra Government has not banned liquor in the state. Even though certain places like Wardha, Gadchiroli and Dhulia etc have imposed a total liquor ban, there is an urgent need for total liquor ban in Maharashtra. States like Gujarat has already imposed total liquor ban and Bihar is mulling over total liquor ban in their state.
WAKF issue
The third demand is to urge the Maharashtra Government to constitute the Maharashtra WAKF Board. He claimed that the previous State Government had planned to promulgate a law to restore illegally sold WAKF land to the Maharashtra State WAKF Board.
The then Revenue Minister Eknath Khadse, who was also the State Minority Development Minister had claimed that they were planning a law to restore these alienated religious endowments to the board. "The WAKF laws provide that these lands cannot be sold. But, transactions have happened on these lands and they have been sold," claimed Khadse, adding that hence they were planning a law to restore these lands.
However, in the absence of a proper WAKF Board in Maharashtra, many properties of WAKF Board are either encroached or being sold off by unscrupulous office-bearers. Janab Moin claimed that when the land that belongs to WAKF exists, why is not being beneficial to the Muslims at large? He added that the recommendations of the Central WAKF Council and that the WAKF Act is not being executed in Maharashtra till date.
While speaking to Nagpur Today, MIM Maharashtra In-charge Janab Syed Moin Mukhtar said that Central WAKF Council, India is an Indian statutory body established in 1964 by the Government of India under WAKF Act, 1954 (now a sub section the WAKF Act, 1995) for the purpose of advising it on matters pertaining to working of the State WAKF Boards and proper administration of the WAKF in the country. WAKF is a permanent dedication of movable or immovable properties for religious, pious or charitable purposes as recognized by Muslim Law, given by philanthropists. The grant is known as Mushrut-ul-khidmat; while a person making such dedication is known as Wakf. The State WAKF Boards are established by the State Governments in view of the provisions of section 13 & 14 of the WAKF Act, 1995. These work towards management, regulation and protect the WAKF properties by constituting District WAKF Committees, Mandal WAKF Committees and Committees for the individual WAKF Institutions.
He claimed that the properties of the WAKF can be used for establishment of educational institutions. He claimed that rent collected from renting out these premises could also be helpful in the upkeep of widows, orphans etc.
In Nagpur there are about 27 WAKF properties, 2700 in Vidarbha and 4500 WKF properties have been encroached. Janab Syed Moin went on to claim that many WAKF properties are in use by Government departments. They should now hand over the land back to us.
Maratha Reservation
While answering to some queries on the cancellation of the Reservation given by the Government to Marathas, the members of the Core Committee of AIMIM claimed that due to procedural error the government could not present the case properly before the High Court. Once presented properly, the High Court will certainly agree to the reservations for the Maratha community.
He related how the politicians and leaders of Bharatiya Janata Party had promised a lot of things to the Dalits, Muslims and when they came to power, they are ignoring to fulfill the promises.
Beef Ban
While speaking on the Beef ban, he said that the present government in order to please members of a few religious communities have brought about the beef ban but have failed to see the implications and the ripple effect the ban has brought about. He said that government has not seen how many people have been rendered jobless. He said that the leather industry has practically closed down and the people working in these industries have been rendered jobless. The government has not pondered over the alternate vocation or rehabilitation of these workers.
Controversy
While answering to a question of the alleged controversial speeches by leader of All India Majlis-e Ittihad al-Muslimin Akbaruddin Owaisi, Janab Syed Moin said that he is one person, who is very careful while delivering public speeches and has been within the parameters of constitutional freedom of speech.
ISIS
While answering to another query on their stand on ISIS, he said All India Majlis-e Ittihad al-Muslimin (AIMIM) is very clear on the ISIS and claimed that they are against the functioning of ISIS. He went on claim that ISIS has got nothing to do with the Islam or the dictates of the Islamic laws. He claimed that AIMIM vehemently opposes the ISIS and have been urging the Muslim youth from having anything to do with ISIS. He went on to claim that Akbaruddin Owaisi in all his speeches have urged the youth not to get swayed by the fake promises or lures of the ISIS through social media.