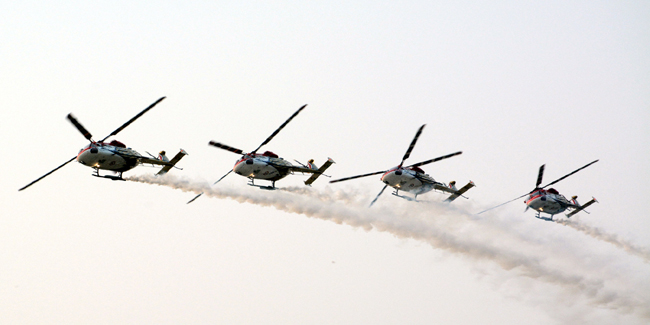 Nagpur News: As part of the ongoing celebrations commemorating 81st Anniversary of the glorious Indian Air Force, Maintenance Command plans a Aerial & Static display at Air Force Station Sonegaon on 30 and 31 Oct 2013.  The show would begin with band displays by 5 Air Force Band and the Bhonsla Military school band followed later by the Akash Ganga skydiving display team towards the end.  The total display duration will be an hour and a half from 0830 hours to 1000 hours also encompassing a static display of various aircraft and helicopters such as the C-130J Hercules, AN-32, AVRO, Advanced Light Helicopter, Chetak and the latest Mi 17V5 helicopter.  The flying display would include a fly past by Avro aircraft, Special Operations slithering demo by IAF Garuds from two Mi-17 V5S, remote controlled aerobatics by aero models flown by local aviation enthusiasts & NCC Cadets and  an amazing display by the glorious Sarang Helicopter Display Team.
The display would be attended by children of few schools, guests by invitation, members of media, NCC cadets, serving and retired defence personnel, IAF personnel and families. The entry is by invitation only.  The aim of the display is to enhance public awareness of the capability of the IAF and instill a feeling of pride and security in the hearts and minds of the viewers. The air show is expected to motivate a large number of young aspirants of the Orange City to pursue a career in the armed forces.
Over the decades since its inception, the Indian Air Force has metamorphosed from a fledgling tactical Air Force to a strategic and multi dimensional force with a demonstrated Global reach. Today, the IAF is poised on the threshold of being an Aerospace power.  IAF has rendered yeoman service to the nation and brought laurels to the country through the last 81 years of its existence, both in war and peace.  Performance of the IAF in International joint exercises with the leading Air Forces of the world and valiant contributions made by the IAF in UN Peace Keeping Operations has made the world take note that the IAF is second to none.  The IAF today holds plethora of weapon platforms and delivery systems and is also in the process of acquiring more next generation high technology flying machines. The techno-logistic challenge of keeping the IAF's flying machines and systems battle ready is a challenging task which is entrusted to Headquarters Maintenance Command located at Nagpur.
The IAF has been conducting Air & Static display at prominent cities in the country to capture imagination of the youth of the country.  To be in the IAF is no doubt a privilege for all Air Warriors and a hopeful dream for a large number of motivated youth all over the country.