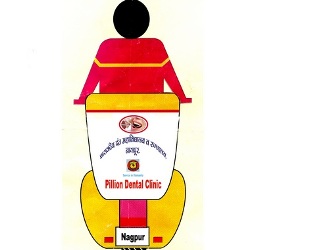 Nagpur News:
To reach out to the needy people in the remotest areas the Govt Dental college,Nagpurhas invented a unique 'Two wheeler Dental clinic'. "Occupied by all sterile filling materials, extraction armamentarium, scaling and polishing equipments, materials for artificial Dentures and many more. Being very economical this two wheeler dental clinic is ready to make a landmark in the history of   Dentistry ", informed Dr.Vinay Hazarey, Dean, GDCH, Nagpur.
Dr. Vinay Hazarey who coined the idea of 'Two wheeler dental clinic' said, " it was really difficult to reach at the deepest distant places on four wheelers and thus there are are chances of left out of some needy patients where the advanced dentistry could not reach  to benefit those.This concept will help in reaching out to the last beneficiary of the society."
GovernmentDentalCollegeand Hospital, Nagpurhas achieved 150 plus dental check up and treatment camps. Camps included in the remote tribal area like Gadchiroli , Chandrapur, Gondia, Nandurbar and Melghat. More than 20000 patients were benefited till date and the number is increasing. The Regular dental treatment camps at central jail and regional mental hospital are being successfully treating the inmates since a decade. Dr. Sushant Patil, Dr.Mahesh Sanap, Dr. Shweta Kamble  are regularly visiting these places.
A Major dental treatment camp was organised at Navapur, Dist Nandurbar on 8th to 11th of Feb 2013  where various dental colleges from the state had participated. GDCH, Nagpur had a lion's share as they treated 493 patients with 52 dentures in just three three days by the team lead by Dr Sattyam Wankhede, Dr. Mahesh Sanap and Post graduate students and supporting staff including dentl technicians. This of theirs was also appreciated by the Minister of health Dr. Vijaykumar Gavit by personally visiting the camp personally.
Many more such initiatives under the leadership of Dean Dr Vinay Hazarey, Dr.Vaibhav Karemore, Dr. Mangesh Phadnik, Dr. Manjusha warhadpande,Dr. Suchitra Gosavi, Dr Amit Parate, Dr Sadhna and   about 100 NSS volunteers worked  hard for the success of these camps.
The 'Two wheeler dental clinic' will be made public today on the occasion of 'National Science Day' .