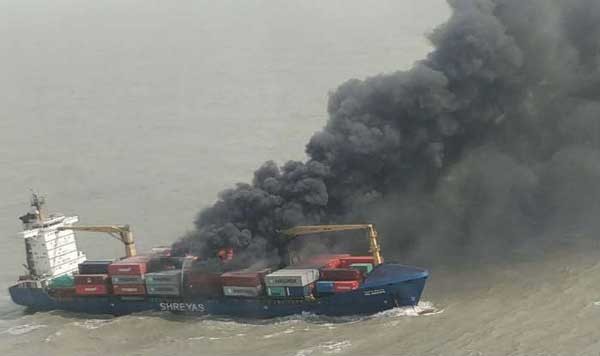 Kolkata: A merchant ship — MV SSL KOLKATA — an Indian flag container vessel, caught fire in the Bay of Bengal off the coast in the wee hours of Thursday.
Eleven of the 22 crew members were rescued by the Indian Coast Guard which launched a massive fire-fighting and rescue operation. But the fire is yet to be brought under control due to the rough sea wind.
ICG (North East Regional Headquarters) Chief Staff Officer (Aviation) and spokesperson Pradeep Sundriyal informed that the fire was reported on board the ship around 55 nautical miles off Sands Head at 12.05 am on June 14.
"On receipt of the message an ICG ship immediately sailed with despatch from Haldia. Due to very rough sea and strong winds and inclement weather, the fire spread very fast like wildfire," he said.
Sundriyal added, "ICG ship Rajkiran from Haldia and ICG aircraft Dornier arrived in the area at around 8 am. About 70 per cent of the vessel was on fire and the decision to abandon the vessel was taken. Till now 11 of the total 22 crew members have been rescued successfully. Rescue operations are underway."