Members of Zonal Central Railway Consumer's Committee meet GM,Rly to press various demands

Nagpur News: A delegation led by Haider Ali Dosani met General Manager of Central Railway Bhuvnesh Prakash Khare during his visit to the city and submitted a memorandum requesting the starting of trains from Nagpur to Delhi, Patna, Lucknow and for construction of a place for passengers to stay in Nagpur.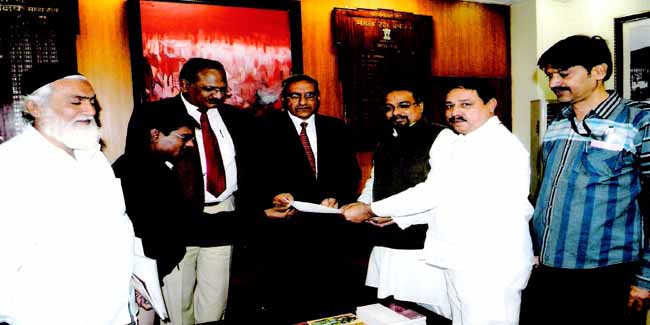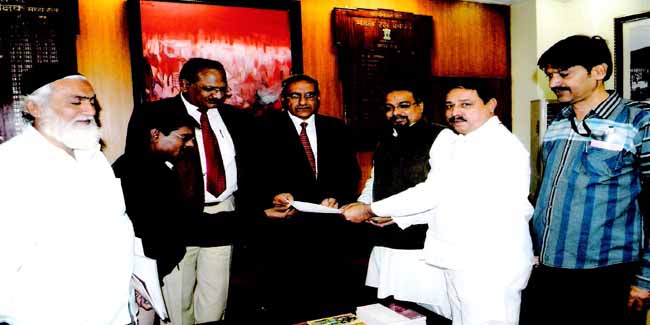 A delegation under the leadership of member of Zonal Central Railway Consumer's Committee Haider Ali Dosani and member of Regional Railway Committee Ahefaz Ahmed met General Manager(Central Railway) Bhuvnesh Prakash Khare in the chamber of DRM Brajesh Dixit. They pressed their demands in a discussion that trains should be started from Nagpur to Delhi, Patna, Lucknow or Duronto trains to these destinations.
On this occasion, the delegation also informed him that that nearly 15 lakhs people who are originaly natives of Bihar and Uttar Pradesh reside in the city. Nagpur and the surrounding areas of Chhattisgarh, Madhya Pradesh, Andra Pradesh and the entire Vidarbha region is a business centre. Everyday, thousands of people travel from Nagpur to Bihar and Uttar Pradesh, however since there is no direct train to these destinations, the passengers have to face a lot of problems. It could be mentioned here that 3 months ago, the same demand was made before the Cabinet Railway Minister Mallikarjun Kharge at Delhi. He had in turn asked the department for a report in this direction. During the discussion GM Khare said that he is directing DRM Dixit to make a feasibility report.
Dosani has also demanded for the passengers of Nagpur city several facilities like passenger room and increase in food stalls at all stations of central railway and issuance new vendor licences. He also demanded adequate railway police security at the railway stations so that increasing instances of robbery & theft in trains can be stopped. He also suggested for daily trains from Nagpur to Ajmer and secunderabad.
General Manager( Central Railway) Bhuvnesh Prakash Khare, DRM Brijesh Dixit, DCM Deualkar along with senior officers of Railway took part in the discussions. General Manager Khare supported these demands and assured the representatives that the demands will be looked into.
Those prominently present during the meeting with the railway officials were mohammed Hanif, Dr. Zakir Hussain, Kamil Harun Nagani,Umesh Parate, Chandrabhan Gaur, Kishore Paunikar, Mangesh Tiwari, Jameel Chaudhary, Izhar Ahmed, Nisar Ahmed Ansari, Moharam Ansari and Rajesh Sahu.