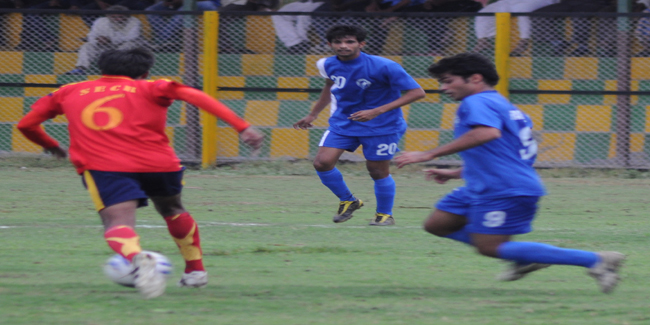 Nagpur News: In an exciting tie, New Globe pipped Anjuman Sports Club 3-2 while South Eastern Central Railway (SECR) and Rahul Sankritayan Club played out 1-1 draw in Meghe Group sponsored Super Division Football Tournament organised by Nagpur District Football Association (NDFA) on Wednesday.
At Police Line Takli ground in a match between New Globe and Anjuman Sports Club all the goals came in the second half. Anjuman sports Club, promoted to super division this season, gave tough fight to Globe. In first half both the teams made some good attempts but failed to convert them. Just three minutes after change of ends, Anjuman reduced to ten when match referee gave marching orders to Mushreer Ahmed in the 48th minute. In the 55th minute Mohammad Sharique scored much awaited goal for New Globe. After getting success, New Globe intensified their attacks in the rival citadel. As a result once again in the 71st minute Mohammad Sharique struck to increase the lead 2-0. Five minutes later Yogesh scored an excellent goal and put New Globe in commanding position with 3-0 lead.
However in the very next moment Anjuman made come back. Thanks to Sheikh Sharique who reduced the deficit. In last few minutes Anjuman forwards played attacking game. Finally in the 83rd minute Mohammad Muhajid found the net and made the equation 3-2.
New Globe too played aggressively. However they too reduced to ten when Shorab was shown red card in the 86th minute. During the proceedings Athar Jamal and Mohammad Saleem of Anjuman were shown yellow cards for their rough tactics.
At Motibagh ground, SE Railway held Rahul Sankritayan Club to 1-1 draw.
Rahul were leading by 1-0 in the first half. Vaibhav Sherley put them ahead in the 25th minute.
In the second half Arun Dhurve scored an equaliser for the railmen. In the remaining time both the teams tried their best to break a deadlock but in vain.