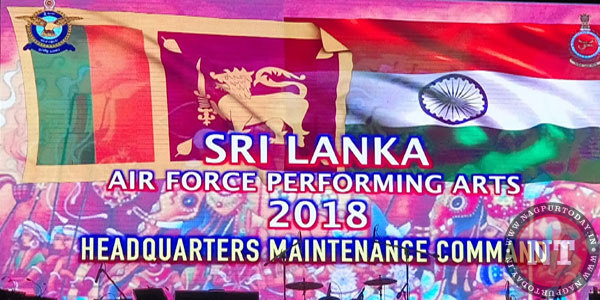 Nagpur: Indian Air Force week is being celebrated at Headquarters Maintenance Command from 01 Oct 18 onwards and will culminate on 08 Oct 18, THE AIR FORCE DAY. As a part of this, Maintenance Command, IAF hosted the Sri Lankan Air Force (SLAF) Performing Arts Team at Nagpur. This cultural troupe performed an amazingly impressive and mesmerizing musical show on 01 Oct 18 at Suresh Bhat Auditorium Reshim Bagh Nagpur. The artists enthralled the audiences with folk dance and songs from Sri Lanka and India.
The Sri Lanka Air Force cultural troupe is a subordinate formation under Directorate of Performing Arts, SLAF. The troop has performed in many countries including Italy, France, China, Pakistan, Korea, Australia, Germany and won hearts of the people all over the World. Sri Lankan Air Force Orient Orchestra is another formation under Directorate of Performing Arts. Being one of the best musical troupe in Sri Lanka, It is on its maiden foreign visit outside their country.
The gigantic Suresh Bhat Auditorium was packed to its capacity with enthusiastic Air Warriors and families of IAF, various Government organisations and civil administration. Children from Schools, Colleges and NCC Cadets were present in large numbers and Other civil dignitaries were present at the event.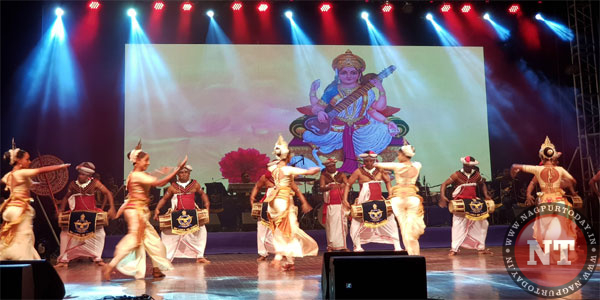 The enthusiasm and eagerness amongst people of Nagpur for such a cultural event was seen to be believed. The response was overwhelming not only amongst the civilian dignitaries but also the military personnel and their families were seen enjoying the performance and wildly cheered each performance. The students of the local Schools, Colleges and NCC cadets at Nagpur also attended the event that provided them a glimpse of the rich Art and culture of Sri Lanka showcased by the artists.
Air Marshal Hemant Sharma Ati Vishisht Seva Medal, Vishisht Seva Medal, Air Officer Commanding-in-Chief, Maintenance Command, Indian Air Force and Mrs. Kusum Sharma, President, Air Force Wives Welfare Association (Regional) felicitated the artists and appreciated their art in reinforcing the Indo-Sri Lankan friendship and time tested cultural ties.