Mech-Trix organised at Govindrao Wanjari Engineering College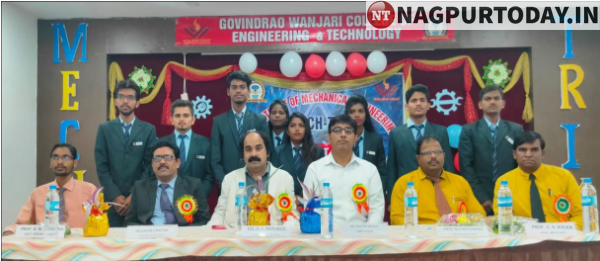 "MECH-TRIX" a student's Forum of Mechanical Engineering Department of Govindrao Wanjari College of Engineering & Technology, Nagpur was inaugurated On 28th August-2019.
The committee members of forum were declared & members were nominated with badges at the hands of Chief Guest Mr. Pratap Shukla (Director & Technical Head, Take It Ideas), Dr. Hemant Sonare (Director, WGI Nagpur), Dr. S. A. Chavan (Principal BE) & Prof. M. S. Motghare (Principal Poly). The members declared are Ms. Anushree Bhoyar (President), Mr. Ashish Kamde (Vice-president), Mr. Avi Ramteke (Secretary), Ms. Priya Zade (Joint Secretary), Mr. Ankit Talekar (Cultural Secretary), Ms. Shubhangi Murekar (Treasurer), Mr. Piyush Pande (Sport Secretary) & Mr. Shubham Bhoyar (Industry Relation Officer). The Head of department Prof. V. S. Nikam briefly explained the overall forum activities being conducted and to be conducted. Dr. H. S. Sonare, Dr. S. A. Chavan & Prof. M. S. Motghare appreciated the efforts of students for successful installation of forum.
The various activities i.e. Ex-Tempo, Treasure Hunt, Roborace & GWCET KPL were organised and prizes & certificates were distributed to winners & runners. Prof. R. M. Dahekar was awarded with Best teacher award for his contribution in Mechanical Department. The teaching staff Prof. R. M. Dahekar (Forum In-charge), Prof. N. H. Chahande, Prof. D. K. Parve, Prof. R. S. Bisane, Prof. Navneet Singh, Prof. R. S. Kuhite, Non teaching and students of the department were present during installation. Adv. Abhijeetji Wanjari (Secretary) has appreciated the effort taken by the department