Nagpur: As the 10-day Ganeshotsav commenced from September 2, various Sarvajanik Mandals installed attractive and huge idols of Bappa. The tallest idol of Lord Ganesh was installed by NCP MLC Prakash Gajbhiye's Ekta Ganesh Utsav Mandal at Ambazari Hilltop. The massive idol was taken to the pandal from Chitar Oli in a colourful procession on Monday, September 2. However, carrying of the huge idol on a cart pulled by bullocks has apparently put the NCP leader in sort of trouble. An animal lover has raised the issue of cruelty to animals and has demanded action against Gajbhiye under provisions of Prevention of Cruelty to Draught and Pack Animals Rules, 1965.
The animal lover of city, Ankita Shah, in a statement issued to Nagpur Today, expressed her shock over the 'cruel treatment' being given to poor bullocks. Shah says, "On September 2, I witnessed a procession being taken out by NCP MLC Prakash Gajbhiye wherein the huge Ganesh idol on a bullock-cart being pulled up by bullocks from Chitar Oli to Ambazari Hilltop, which is approximately 8.2 kms and have several hilly and mountainous roads on its way.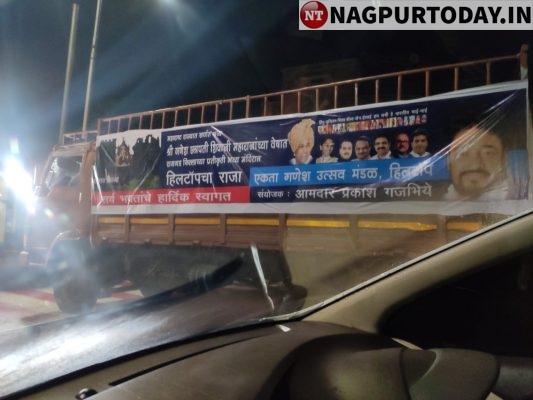 As there were several police personnel in bandobast of this rally, I talked to one of them and pleaded to remove bullocks from the cart and and use any other four wheeler to pull the idol, but he was helpless as the rally was of an influential personality. I was constrained to call Commissioner of Police for help, who forwarded my complaint to DCP of that zone Vinita Sahu. I got a call from her and she ensured that she will take action.
She contacted API Wakade who was accompanying that rally. I received a call from him and he informed me that he had a word with the owner of the bullock-cart and he says that his bullocks can carry such weight. If you still have complaint, you go to police station and register a complaint. I have preserved the phone call recording of the API," Ankita stated.
Shah further said that what was disturbing that the owner did not even provide water the bullocks. The bullocks were being treated cruelly. The idol was so huge that it took about 4-5 hours for them to reach the spot and the bullocks were not even been disengaged on regular intervals. It was a pathetic view.
She has sought action in this regard under the provisions of the Prevention of Cruelty to Draught and Pack Animals Rules, 1965 as rules were conveniently flouted in this rally and even the police were mute spectators to it.
The animal lover has urged Animal Welfare Board of India to immediately take the cognizance of the matter and take necessary actions even against the police staff who were present at the rally. Use of animals in all the rallies should be banned, Shah demanded.
Please see the following links which MLC Prakash Gajbhiye himself has shared on his Facebook account where one can see the size of an idol and how cruelly the bullocks are forced to carry it.
When Nagpur Today contacted Prakash Gajbhiye for his comment on the matter, he refused say anything on the issue.