Mayor inaugurated two days workshop for Promoting Sustainable Urban mobility in the City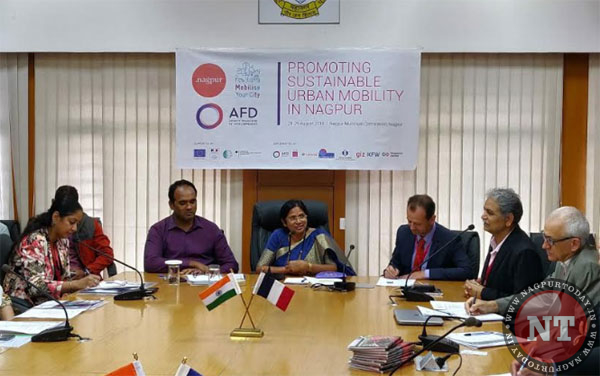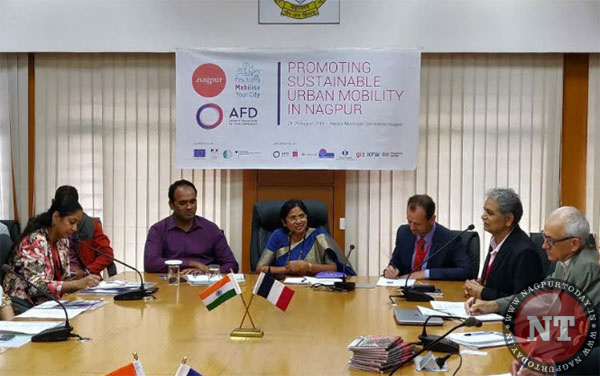 Nagpur : Nagpur Municipal Corporation organized a workshop for Promoting Sustainable Urban Mobility in Nagpur in collaboration with Agence Française de Dévelopement (AFD) and European Union. Mayor Smt. Nanda Jichkar inaugurated this workshop at NMC Headquarters on Tuesday, August 28.
Opposition Party Leader Mr. Tanaji Wanve, NMC Commissioner Mr. Virendra Singh, CEO of Nagpur Smart & Sustainable City Development Corporation Ltd. (NSSCDCL) Mr. Ramnath Sonawane, Lead Transport Specialist of AFD Mr. Arnaud Dauphin, AFD consultant Mr. Mathieu Arndt, Deputy Director to India of AFD Ms. Clemence Vidal De La Blache, Senior Project Manager of European Union Delegation to India Ms. Smita Singh, Grants Officer of AFD Jatin Arora, Project Officer of AFD Mr. Rajnish Ahuja along with the officials of NIT, Maha Metro, NEERI and various other organizations were present at the inauguration ceremony.
"It is of great pride to us that The Chief Minister of Maharashtra, Shri. Devendra Fadnavis and Minister of Road Transport & Highways of India, Shri. Nitin Gadkari both hail from Nagpur city. Nagpur ranks first in the list of smart cities. Now, we are on the verge of making Sustainable developments in the city and we have full work force for it", said Mayor Nanda Jichkar in her inaugural address.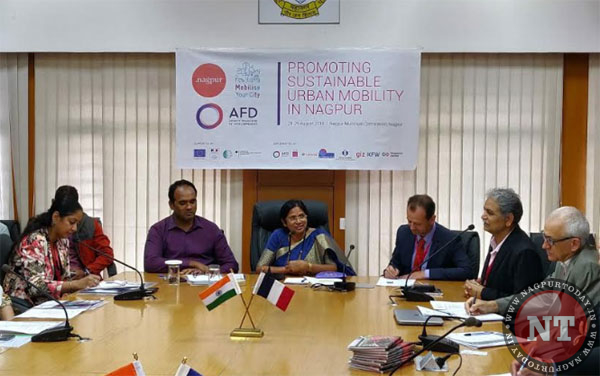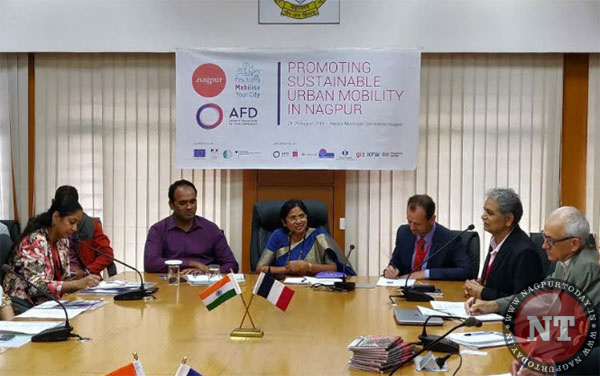 NMC Commissioner Virendra Singh said that, Nagpur being a geographical centre of India it already has a spatial advantage. Under the 'Mobilize Your City' initiative AFD has chosen Nagpur along with Ahmedabad and Kochi to support technical cooperation activities as a part of a worldwide programme. The Metro Project is running on at a full pace in the city but there is not much awareness among citizens regarding advantages of using public transportation. So, it is important to spread awareness on a large scale. He also said that, this is the right time to invest money, time and technology in the development of City.
The Welcome Speech was given by Lead Transport Specialist of AFD, Arnaud Dauphin and Senior Project Manager of European Union Delegation to India, Smita Singh. "The various developments that are going on in the city are extremely influencing", said Arnaud Dauphin while Smita Singh expressed the hope that the development of Nagpur city will be transformed in large parts by the cooperation of AFD and the European Union.
In a presentation given by Mr. Mathieu Arndt he explained the concept of MYC. Under the MYC initiative, officials also discussed the Dream Nagpur of 2030, issues that are being currently faced by the city and what all developments will be made under this project. The attendees from various organizations also expressed their ideas of Nagpur in 2030. Mr. Mahesh Gupta of Maha Metro gave a presentation on International Urban Transport Policy. Under Sustainable Mobility, participative sessions on topics like road management, public transport, electronic facilities and future planning for city development were also conducted.
At the end of today's workshop, an overall summary of Roadmap for MYC activities in Nagpur was given. CEO of Nagpur Smart & Sustainable City Development Corporation Ltd. (NSSCDCL) Mr. Ramnath Sonawane concluded the first day of workshop.