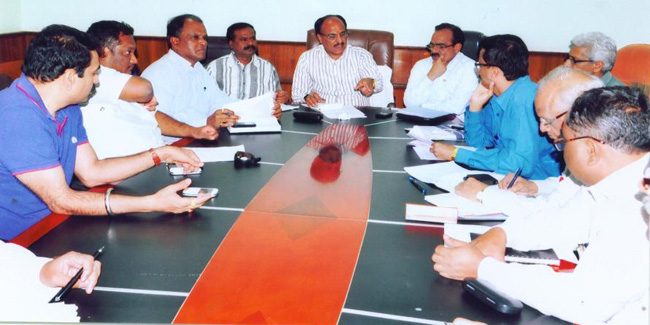 Nagpur News: It appears that the ruling party in Nagpur Municipal Corporation has tightened its belt to wind up all the important projects in the city before the election. The constant delay in series of projects has invited the ire of city Mayor Anil Sole who came down heavily on the officials in a meeting for the mess. He even directed to switch the current project management consultancy for leaving large number development works in Nagpur in doldrums. Sole came out with his concern after reviewing the progress of series of works being undertaken by NMC.
He minced no words in saying that if any authority does not take the projects seriously then better to remove it. Sole stressed for decentralization of the incomplete works scattered across the city.
Despite budgetary sanctions for the concerned works, most of these have been awaiting progress since long.
Commissioner Shyam Wardhane later issued stricture that the officials and concerned contractors should sort out the problems hampering the projects within 24 hours. Executive Engineer Ramesh Hotwani informed that the NMC's new administrative building was expected to be completed by now but the contractors stayed the work for non-payment. He informed that Rs 31 crore has been spent on the new building, citing contract system for executing the work as the reason behind the delay.
Contractors also revealed their part of story saying that NMC has not cleared their payment even as the most of the works have been completed.
Among the major works that were reviewed by Sole included bridge construction located on Nag River in Hiwari Nagar, citizens facilitation centre in Satranjipura, Kavivarya Suresh Bhat Sabhagruha, overbridge on Nag River at Rahatekar in Wadi, Shahid Smarak, beautification of Dr Hedgewar Square, construction of sports complex and other important works.
Mayor ordered the offices of commissioner and deputy commissioner to be shifted to new building by March 15, to complete Hiwari Nagar bridge by April 13, Suresh Bhatt Sabhagruha by June 2014 and Rahatekar Wadi bridge within 6 months.
Similarly, he ordered Namantar Shahid Smarak and Dr Hedgewar Square beautification works by March 31.
Those present in the meeting including deputy mayor Sandeep Jadhav, ruling party leader Praveen Datke, senior nagarsewak Sandeep Joshi, commissioner Shyam Wardhane, superintending engineer Prakash Urade, executive engineer VS Johari, Ramesh Hotwani, Manoj Talewar, Sanjay Gaikwad and others.