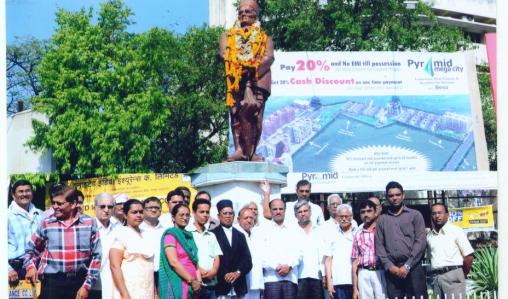 Nagpur News:
The Nagpur Mayor Anil Sole paid floral tributes to Swatantrya Veer Savarkar, who inspires generations after generations by his fight against British rule during freedom struggle. "Swatantrya Veer Savarkar was a revolutionary who kept the freedom struggle flame burning till his last breath thus engraved his name in the list of great freedom fighters," Sole said while paying tributes to Savarkar on birth anniversary.
The programme was held at Shankar Nagar Square where a statue of Swatantrya Veer Savarkar is installed.
Present prominently on the occasion include NMC's Zone Chairperson Rashmi Fadnavis, Swatantrya Veer Savarkar Committee's President Dr S P Kulkarni, Prof Promod Sowani, Secretary Mukund Pachkhede, Mahadevrao Bajirao, College for Blind's Radha Ikhankar Borde, Mahanagar Sahkaryawah of RSS Ravindra Bokare, Shivaji Nagar Area Sanghchalak Dr Shrikant Shilledar, Babasaheb Deshpande, Dr Gulabrao Vanjari, Prof Vijay Kewalramani, Sanvedana Familiy's Niranjan Risaldar, Sagar Kotvaliwale, Sandip Kirtane, Chitpawan Brahman Samaj's Narendra Jog, Umakant Ranade, Hindu Mahasabha's Abhijit Joshi, Ranjit Joshi, Virendra Deshpande, Anant Padhye, Sripad Naib, Kathal Parivar Pratishtan's Sanjay and Uday Kathale, and in Savarkar's attire Sarjerao Galpat, and others.