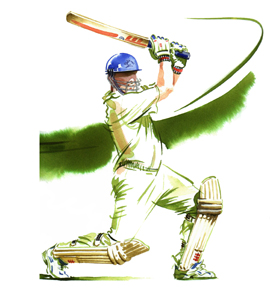 Nagpur News: The Vidya Sadhana Convent Club defeated Shantiniketan Cricket Club by 27 runs in the finals of Babasaheb Nahatkar Memorial Inter-Club Cricket Tournament thus emerged champions. The main architects of Vidya Sadhana's brilliant victory were Jayant Raut who made mockery of Shantiniketan bowlers by scoring magnificent 61 runs, and Ram Katre on his part humiliated Shantiniketan by hitting explosive 44 runs in quick time. Jayant Raut was declared Man of the Match.
The Tournament was organized jointly by Vidarbha Gymkhana and Karnewar Cricket Organisation Committee for Under-14 boys. The matches were played at Pratap Nagar ground.
The final was disappointedly one sided. The Vidya Sadhana Convent Club scored an unassailable 151 runs in their allotted 20 overs losing 7 wickets. Jayant Raut, who scored 61 runs, hit 8 boundaries. The Shantiniketan boys were sent on a leather hunt by Ram Katre who struck 44 runs with help 5 brilliant fours. Nikhil Atram also contributed 31 runs to Vidya Sadhana innings. The Shantiniketan bowlers who impressed most were Manish Bhavre who scalped 3 wickets by giving only 31 runs, and Keshav Anne took 2 wickets at the cost of 22 runs.
In reply, Shantiniketan team was bundled out for 124 in 18.5 overs. Rahul Lonare's fighting 51 runs went in vain as the Shantiniketan team failed to achieve the target of 152 runs the Vidya Sadhana team had given the challenge to its rivals. Rahul Lonare sent the cherry 6 times to cross the boundary lines. Madhup Pande and Nikhil Nagpase pocketed 3 wickets each for Vidya Sadhana.