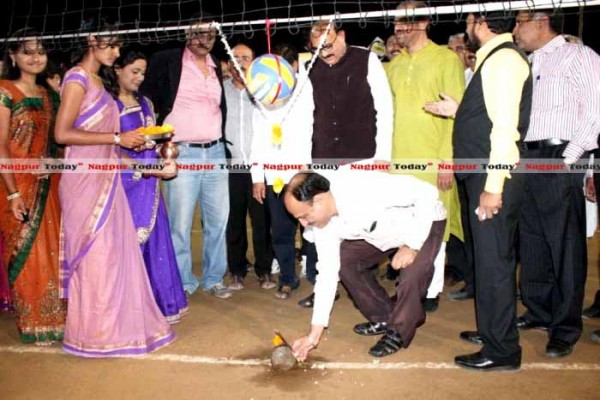 The grand inauguration of the 45th Maharashtra State Inter-District Volleyball Championship was one noteworthy affair. Players from all over Maharashtra gathered to mark their keen presence, and how! It was all about celebrating the event, the players' way!
No celebration in true 'India Style' is complete without 'the Indian Band Baja'. The very same trend was on looked at the rally carried by the players and trainers before the commencement of this function. The anchor in her 'Shayarana Andaaz' kept the crowd engaged and informed about various happenings of the past. As the dignitaries arrived, the show saw an uptrend and paced up in terms of valor.
Big wigs like NMC Mayor Anil Sole, Anil Deshmukh, Sunil Kedar, Sudhakarrao Deshmukh and Anees Ahmed graced the event with their presence and were seen as active attendees at the event. Gopal Bohare, Sanjay Bonde, Shekhar Sawarbandhe, Ravinder Kamble and Vijay Santan as well were present.
The famous bollywood actress Mahima Chaudhary inaugurated the event by lighting the traditional lamp. She congratulated the organizer Vijay Dangre and wished the players best luck for the matches. Going down the memory lane she informed about her keen interest in sports while in high school. Appreciating the women spirit, Mahima specially encouraged the female players in a unique way; she versed a dialogue from one of her movies-'Aurto ko pairo ki jooti samajna chod de seth, jab uski laat padegi toh bohot jor ki padegi!' Not missing to praise the boy clang, Mahima passed a casual comment saying that 'You all look Handsome; Salman jaise bodyguards lag rahe ho sab!'
PICS BY: Vinay Thorat