Nagpur Football Club enters in the finals of Meghe Super Division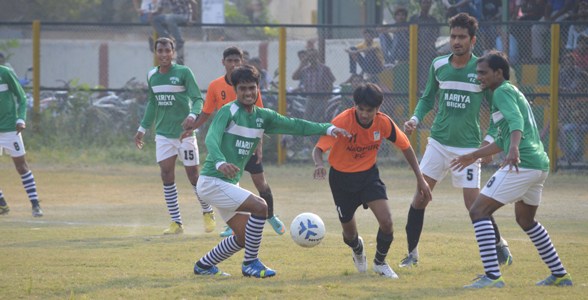 Nagpur Today.
Jawaharlal Darda Memorial 2nd Division Football Tournament sponsored by Lokmat Media Pvt. Ltd, kicked off at Central Railway Institute ground on November 7, 2013.
In an inaugural meet, Birsa Munda eliminated Arman Sporting 6-0 and clinched the top honours in the one-sided and monotonous match of Jawaharlal Darda Memorial 2nd Division Football tournament. Shive Kumar from Birsa Munda took the sole lead by scoring a goal in the 3rd min followed by Deepak Sonare earned a goal in the11th min, Nitesh Raut in the 22nd min, Rahul in the 42nd min, Amar in the 59th min and Nitish 60th min. Yellow cards were shown to Vikas from Birsa Munda in the 19th and 58th min of the match including red card.
Furthermore, the second match played between Hill Top XI and St. Martin Nagar was draw by 0-0 where Yellow card was shown to Noel Joseph from St.Martin Nagar in the 69th min.
In the Meghe Group sponsored Super Division Football Tournament organised by Nagpur District Football Association (NDFA) at SECR's Motibagh ground on November 7,2013, Nagpur Football Club defeated Young Iqbal 2-0 to keep their hopes alive in the tournament.
This was the first qualifier of the tournament where Nagpur District Club entered into the final while Young Iqbal boys got an opportunity to play against Central Railway. The winner between this tie will play in the final. After playing a barren first half, Emanuel Okaye gave 1-0 lead to NFC in the 40th minute. Then in the 68th minute, Shashank Bhivgade entirely converted the penalty to make the equation 2-0. During the proceedings match referee gave marching orders to Mohd. Ali of Young Iqbal for his rough tactics.
In the first division league at Police Line Takli ground, Nagpu City Club triumphed over Central Railway Institute 4-0 where Shamsher Ali struck the lone goal in the11th min, Sagar Mishra in the 28th min ,66th min and 67th min. Irfan from Central Railway was cautioned in the 18th min.
Schedule for tomorrow's matches is:
Meghe Super Division
(Super Six match)
Match : DSACRLY   v/s Young Iqbal  2.30pm on Motibagh ground.
Meghe First Division
1st match: Al-Aziz Sports Club v/s Nagpur Western 8.30 am on Police Ground.
2nd match: Rahul Academe v/s Young Iqbal  9.30 am on Police Ground.
Late Jawahar Lalji Darda 2nd Division
1st match: Noor Islam v/s ONFC at 1.00pm on Ajni Ground.
2nd match: Qamar Sporting v/s St. Young Boys at 3.00pm on Ajni Ground.