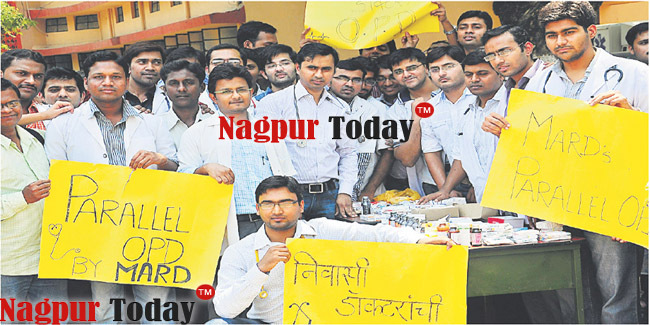 Nagpur News : According to sources it is learnt that striking MARD  doctors may  call  off  their agitation today after State issues expulsion notices,  The state government, on Thursday, issued expulsion notices to 4,500 doctors across the state for participating in the indefinite strike called by the Maharashtra Association of Resident Doctors (MARD).
"If they fail to join work immediately, we will expel them from the hostel and cancel their postgraduate registration," said Vijay Kumar Gavit, state medical education minister.
Gavit also said the government had agreed to a majority of the demands before the strike. "We are also prepared to evoke the Maharashtra Emergency Servi-ces Maintenance Act. Hospitals in Pune have withdrawn and others will follow suit," he added. However, MARD officials said the strike in Pune is still on.
The government also plans to appoint doctors from the state health department to run patient services at medical colleges. "We will continue the strike till our demands on stipend hike and better security are met," said Dr Swapnil Kulkarni, spokesperson, MARD. Currently, resident doctors earn a monthly salary ofRs. 31,000, which they want increased to Rs. 41,000.
Why are the Maharashtra docs striking?
The Maharashtra Association of Resident Doctors' (MARD) strike has seen residential doctors all over the state refuse to turn up for work and the strike has affected hospitals all over Maharashtra especially in major cities like Nagpur, Nashik, Mumbai, Aurangabad and Pune.
What do the MARD want?
The state residential doctors association has several demands. They are basically:
A salary hike of 136% (from Rs 6000 to Rs 15600)
Counting their residential experience equivalent to an assistant professor's experience
Better security in hospitals from unruly patients' families
Scholarships for reserved categories that were discontinued two years ago
The first bone of contention is the non-implementation of the stipend doctors are entitled to every three years. Basically, every three years residential doctors' salaries are supposed to be increased because of rising service costs and other factors. However, the stipend hike didn't come in 2012. Currently, residential doctors are paid a paltry Rs 6000 in government hospitals and they want it to be hiked to Rs 15600. Also though this is a compulsory bond service for all doctors who've been educated in Maharashtra, the work experience isn't counted when they sit for the Maharashtra Public Service Commission (MPSC) exam. They want this experience to be on par with to the experience of an assistant professor in a medical college. They are also aghast at the recent spate of attacks on doctors in government hospitals by aggrieved patients' families and they want CCTV cameras in every hospital along with better-armed and more security guards to prevent the violence.