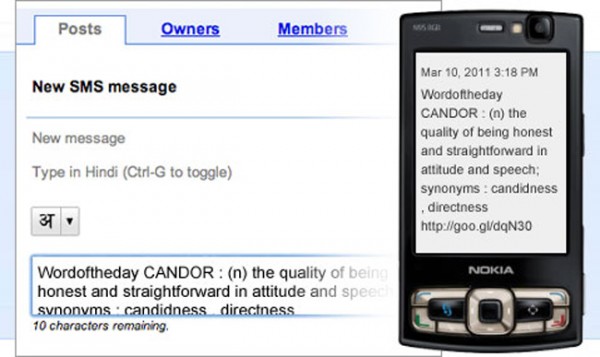 Nagpur News: A mobile text message with highly objectionable content has been doing rounds across several handsets for over some days in Nagpur. The brazen remarks over Hindu deities in the SMS have been the bone of contention among the people. The message also contains derogatory remarks hurting the sentiments of followers of Buddha religion. The SMS is feared to incense the religious ire leading to disruption of social fabric of the city.
The citizens have demanded harsher punishment for those circulating the controversial content over mobile phones. The hate texting is reportedly done from two separate mobile numbers 9326799386 and 9326684328.
The message is believed to have been the handiwork of destructive minds, who intend to spread hatred. Meanwhile, when calls were made at one of sender numbers (99326684328), it was switched off. Later on Thursday morning, someone picked up and denied any forwarding of the said text message. He clarified that someone has tampered with his number to send out the hate messages. However, police is required to delve deeper into the veracity of his claim.
City police commissioner KK Pathak has also ordered inquiry in order to look into the origination of the text. He handed over the matter to cyber cell. It is believed that the accused would be arrested very soon.
Leaders react sharply
BJP leader and corporator Sandeep Joshi has met city police commissioner KK Pathak and appealed to arrest the anti-social elements behind the propaganda.
BJP city president and MLA, east Nagpur, Krishna Khopde vented his ire over the SMS in question condemning the act and demanding death sentence for such social evils.
The dreaded criminal Raja Gaus has been absconding for quite some days and now the demands are pouring in to arrest perpetrators of spreading this hate message. Citizens are pressing to bring these fabricators of communal tension to book on priority basis as they deem such criminals more harmful to the society.
Fuming over the flow of message, former NMC standing committee chief Dayashankar Tiwari said playing with Hindu sentiments in such a manner would not be tolerated at any cost. He demanded immediate arrest of the culprit.
Shiv Sena district president Shekhar Sawarbandhe also met police commissioner and cautioned that any disturbance in Nagpur's communal peace would be the responsibility of police.