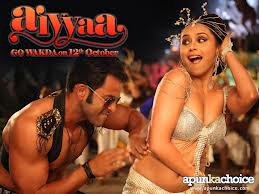 Cast: Rani Mukerji, Prithviraj, Subodh Bhave, Nirmiti Sawant, Satish Alekar, Jyoti Subhash, Ameya Wagh, Anita Date
Direction: Sachin Kundalkar
Genre: Romantic Comedy
Duration: 2 hours 28 minutes
It is hard to fathom what an award winning director like Sachin Kundalkar was thinking when he set upon himself the task to make a film like 'Aiyyaa' after proving his mettle in a Marathi film called 'Nirop' and bagging a National Award as a screenplay writer for 'Gandha'. Perhaps, Sachin woke up one day with an idea to portray the story of a typical single and ready to mingle middle-class girl who's waiting for her Mr. Right but in reality ended up spoiling the film (and thereby torturing us – the audience) in his attempt to pull off a supposedly off-beat film.
Anurag Kashyap and Sachin Kundalkar's masaledar movie Aiyyaa is about Marathi mulgi Rani Mukerji's hunt for her dream man, Tamilian magan Prithviraj. And the film has all the fluff to engage and entertain you.
Aiyyaa opens with Meenakshi Deshpande's (Rani Mukerji) spoof-like impersonation of 80s reigning divas Madhuri Dixit-Nene, Sridevi and Juhi Chawla singing and dancing. But she's not an aspiring starlet as the scene or the film's promos want you to believe. Meenakshi is seemingly simple, sane and normal-looking member of the quirky family, but looks are highly deceptive in her case. The story, set in Pune, is about the eccentric Deshpandes' search for a suitable mulga for their mulgi. But their daughter's nothing like a sweet, homely and television stereotyped bahu material.
Her loud, over-enthusiastic, roly-poly mother (Nirmiti Sawant) places a matrimonial ad in the local newspapers to find a groom for her darling daughter, but the young one wants to be in love with the man she marries. The Bollywood-struck, salwar-kurta clad mulgi falls for gold-medalist art student, Tamilianmagan Surya Iyer (Prithviraj) at the art and craft's college where she works as a librarian. But it's not love at first sight for the wacky woman, she's mesmerised…hold your breathe…by his manly body odour.
So that's the story of Aiyyaa! Obviously there have to be a few hiccups in the filmi prem kahani. In writer-director Sachin Kundalkar's plot there are two big obstacles, not the typical caste conscious parents, but Meenakshi's tongue-tied behaviour every time she spots Surya and Madhav (the guy she's met in the arranged marriage set-up, perfectly played by Subodh Bhave).
Right from the outset you realise that first-time Hindi film director's script is 80s Bollywood melodrama spiced with Maharashtrian masalas and enhanced with South Indian tadka.
By the way prior to Aiyyaa, Sachin made a Marathi film titled Gandh in which the sense of smell played an integral part in the plot like the Rani-Prithviraj starrer.
The first half of Aiyyaa starts interestingly, but the recurring situations in the screenplay make you wonder if there's more to the story. For instance, Rani's constant Jim Carrey-like facial expressions, her blindly chasing Surya as soon as she gets a whiff of his manly scent, her breaking into a dhinchak song and dance every time the script comes up with an appropriate opportunity and last, but not the least, her loud family's crazy antics.
As we mention of this motley bunch of characters, one must point out that Meenakshi's Maharashtrian, highly caricaturish folks – apart from her mother, she has a docile father (Satish Alekar), her wheelchair-ridden granny with gold-plated teeth (Jyoti Subhash) and her street dog-loving brother (Amey Wagh ) – and co-worker Maina (buck-toothed Lady Gaga replica played by Anita Date) hold their ground against Rani's theatrics in the laugh riot.
Thankfully in the second half Madhav arrives in Meenakshi's life and Aiyyaa moves forward at a decent speed. And the film concludes on a happy note.
While Anurag Kashyap's production entertains you till the end credit roll, the sluggish, tiresome and far-fetched screenplay mars the novelty of the bizarre comedy. When Aiyyaa reaches the last few reels of the film, Meenakshi talks to Surya! Till then she's has madly following him everywhere like Mary's little lamb.
Rani's a livewire as the madcap Meenakshi – her attempt to be part of the rising range of heroine-centric films – but after a point she seems to be trying too hard to impress with her histrionics. And you certainly feel so when she tries to pull off the Marathi accent. Though the reigning diva sounds believable when she's speaking in Surya's mother tongue (she learns the South Indian language to impress the handsome hunk). As mentioned earlier the supporting cast does a good job at making you laugh and sometimes cry as their acts get monotonous. And all those women think who think Bollywood always exploits the fairer-sex to heighten the hot-o-metre in movies, Aiyyaa is your film. South film actor Prithviraj's the eye-candy in this plot. He's mostly there to show-off his well-sculpted physique and lend oomph and sizzle to the wacky comedy. But sadly that's all he does when he's not throwing intense glances at Meenakshi.
Amit Trivedi's background score and cheesy songs enhance the masaledar movie. Cinematographer Amal Chaudhary creates some great visuals to support the over the top and loud entertainer. BeforeAiyyaa writer-director Sachin made only two and half Marathi films (two feature lengths and one short), but he possesses the reins needed for an entertaining story teller. Next time however he better ensure he has a solid, slightly logical and shorter script to ensure a blockbuster masala movie.
In straight words, 'Aiyya' is not a script poorly handled rather it is a script poorly written. We can only hope that Sachin Kundalkar doesn't repeat his mistake and make his audience go 'Aiyyaa' in pain again.
INOX: Poonam Mall, Wardhaman Nagar                    
09:00 AM     11:45 AM                                
02:30 PM        07:45 PM      10:30 PM
INOX: Jaswant Tuli Mall, Kamptee Road
09:00 AM       11:45 AM
02:30 PM       07:45 PM       10:30 PM
BIG Cinemas: Sangam
10:00 AM       12:45 PM
06:30 PM
CineMAX: Eternity Mall
10:00 AM        01:00 PM     04:00 PM
07:00 PM       10:00 PM
Our Ratings :

Suhani Vanjani