Nagpur News: Sickle Cell disease is the result of a genetic condition, which greatly reduces a person's immunity. The disease can weaken major joints in the body, which then need replacement at a very young age. A sickle cell patient is more prone than others to all major and minor diseases, and will be much slower to heal. It is a highly crippling condition to have, and has been declared the world's most lethal genetic blood disorder by the United Nations Organisation (UNO).
In India, twelve states and one Union Territory are strongly affected by Sickle Cell Disease, including twelve districts of Maharashtra. Most of the affected belong to rural areas. The Maharashtra government has provided numerous facilities to these patients, such as free treatment, free blood transfusion, and free medicine and railway and State Transport Bus concessions for those travelling for treatment. These were further emphasised by a Maharashtra Lokayukta ruling in April 2011. The Lokayukta ruling also recommends that all haematologists, gynaecologists, orthopaedics and general practitioners keep a record of the sickle patients they treat. Most of these measures, however, do not reach those who need it.
Twenty four year old Surekha Ukey had no idea that she was a sickle cell patient from birth, till there were complications in her pregnancy and her child was born premature. The child has also been diagnosed with sickle cell, and is weak and lethargic. Sickle cell is not a condition that one can develop later in life; it is present since birth. The mother and child were first diagnosed with the condition at Daga Hospital, and were diverted to IGMC Mayo Hospital for treatment.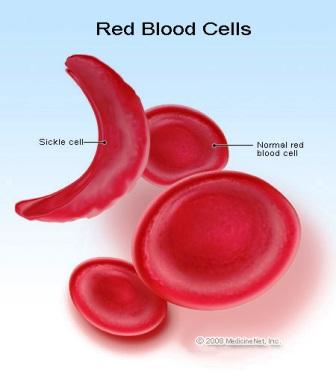 Surekha's husband Prakash Ukey is a labourer, and theirs is a Below Poverty Line (BPL) family. Despite this, and despite the governmental promise of free treatment to all at government hospitals, Prakash had to pay for four units of blood at Rs. 1300 each, and an additional Rs. 8000 for the delivery of the child. Ukey has kept all the receipts of his medical purchase with him, in the hope of Justice and remuneration.
Like the Ukey family, a majority of sickle cell patients in the state belong to the Vidarbha and Marathwada regions. However, the four Molecular Genetic Laboratories that are being established research and treatment for Sickle Cell, Haemophilia and Thalassemia in the state are located in Mumbai and Pune, are located in Mumbai and Pune. Neither region has a serious history of Sickle Cell Disease.
The Sickle Cell Society of India demands the shifting of at least one of the labs to Nagpur city, since it is the biggest city in the affected region. They also demand the passing of a National Sickle Cell Disease Control Act and National Sickle Cell Disease Treatment Act by the central government, modelled on similar acts passed in the USA decades ago.
The Society also demands the declaration of Sickle Cell as a disability, since it is a disease that can affect and harm multiple organs of the body permanently, and doesn't evoke the kind of help and assistance that a visible disability does in public.