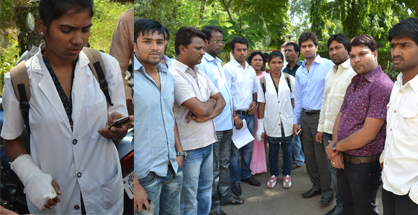 Nagpur News: In a case that has highlighted administrative apathy towards ragging in the city, Nidhi Yadav, a third year medical college student at Government Medical College and Hospital (GMCH) has her hand wrapped in bandages thanks to alleged bullying and manhandling by her senior, Rahul Khambalkar. The incident took place on Saturday, over a minor misunderstanding about a comment on social networking site Facebook.
Despite repeated complaints by her parents and classmates, the college administration has allegedly done nothing beyond promising the setting up of a committee to inquire into the matter. It has almost been a week since the incident, and no action has been taken. The Ajni police have also been dragging its steps, having refrained from filing an FIR till Friday afternoon.
"We were told that no case could be filed till we submit a medical report proving the harassment", said Mrs. Vidya Yadav, the victim's mother, "The casualty department of the college, where she was taken after the incident, has not given us a report yet. We tried to get in touch with the doctor who checked her, but in vain".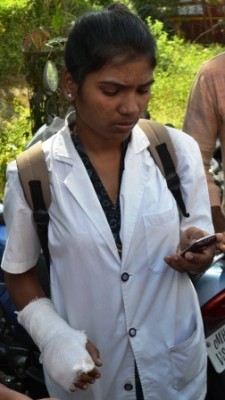 The helpless parents then sought the help of the Nagpur wing of National Students Union of India (NSUI). The NSUI took the victim's parents to Ajni police station yet again to file a complaint, and also called in the local media.
"With UCN and Sahara Samay covering the news, the police finally conceded to file an FIR this afternoon", NSUI officials told Nagpur Today, "We questioned the GMCH administration's need to constitute a fresh committee, since each college is already supposed to have an anti- ragging committee in place. Our questions were left unanswered".
Nagpur Today is in possession of the complaint letter given to the college Dean on Tuesday. The letter has been signed by fifteen of Nidhi's BPMT batchmates. The letter has clearly had no impact on the college administration. The hospital's Public Relations Officer (MBBS Department) categorically denied any knowledge of the incident.