Many lacunae exists in guidelines of government and administration on validity of Caste Certificates

Every year the students and parents have to run from pillar to post to procure the certificates
Students and parents falling prey to touts and brokers
CMs intervention sought to formulate a clear Government Resolution (GR)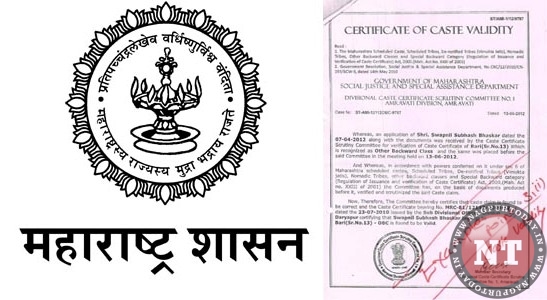 Nagpur: Almost every year the students who pass the SSC or HSC examinations have to run from pillar to post to procure the various certificates from government agencies. These certificates include: Caste Certificate, Caste Validity Certificate, Non-Creamy Layer Certificate, Affidavits (for Residential address proof etc), Domicile Certificate, Migration Certificate, Income Certificate etc.
These certificates are necessary to procure admissions into junior colleges or professional colleges and institutes.
The students and their parents start making round to the District Court premises or District Collectorate Office for procuring these certificates. One can't procure these certificates in one go. One has to make repeated rounds to the District Courts and District Collectorate in order to procure one certificate. Many have to repeat the same process for other certificates and year after year.
In order to allay the problems that the students and parents face every year, State Secretary of Akhil Bharatiya Manavadhikar Nigrani Samiti (All India Human Rights Monitoring Committee) Lal Singh Thakur has written a letter to the Chief Minister of Maharashtra and requested him to intervene and direct the authorities to bring out a Government Resolution (GR). This GR should ensure that when the Caste Validity of any person in the family is made, the Caste Validity of all other members should automatically be generated. These will in-turn save valuable time and energy which the students can use in procuring admission into the colleges of their choice.
The problem is created when those students who want to procure admission into a college of their choice have to submit so many certificates issued by government agencies within the short-duration (within which they can procure admissions) is a herculean task in itself.
Many students or parents fall prey to the touts and brokers who linger in the premises of the collectorate or district courts. It has also come to fore that in order to fleece more money, often the gullible people are handed fake certificates too. This fake certificate comes to fore only when an investigation is conducted into the veracity of the certificates and then applicant's candidature is cancelled and legal proceedings are initiated against them.
Many touts and unscrupulous elements keep a look out for gullible people who come to the Collectorate to make these certificate especially the Cycle Stand right from early morning to late in the night. The amount that these touts charge for procuring these certificates is almost the same. However the charges of tout's increases manifold times especially after the results.
In order to allay the problems faced by the students and the parents, State Secretary of Akhil Bharatiya Manavadhikar Nigrani Samiti (All India Human Rights Monitoring Committee) Lal Singh Thakur has appealed the Chief Minister to consider this matter seriously and to intervene by directing the authorities to bring out a GR to ensure easy availability of these certificates.