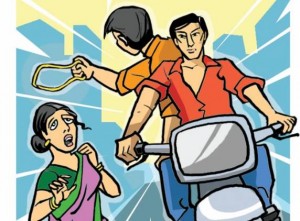 Nagpur News.
Nabbed by Ajni police for committing more than 8 chain snatching cases, a 33-year-old man confessed that how he landed into criminal activities just to repay the loan amount and slowly getting addict to it. Pradeep Bondre, a resident of Dyaneshwar Nagar, is also involved in stealing motorbikes.
Bondre told police that how he had stolen the bike for the first time and used it for chain snatching.
"He admitted that he had taken debt for his personal use. To repay it, he first stole a bike and later took to chain snatching with his partner, who is still at large," said police.
Bondre was nabbed by head constable Shatrugna Kadu while investigating a chain snatching case happened six days before. A secret source had informed police about Bondre, who is a driver by profession, and was nabbed from Ajni police station area.
He told police that he had committed chain snatching in Ajni, Dhantoli and Sakkardara police station areas. Police has seized the bike and some stolen valuables from him.