Man injured in unprovoked attack by goons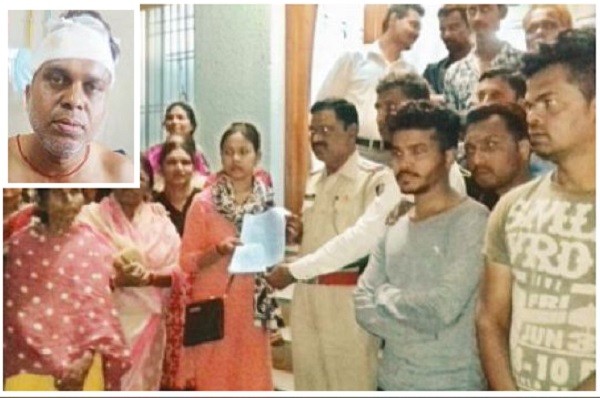 Nagpur: A Middle-aged man fell victim to anun provoked attack by local goons with sharp-weapons near his house in Indora under the jurisdiction of Jaripatka Police Station on Sunday. Angered by the incident a large number of residents of the area, on Monday, took out a morcha to Jaripatka Police Station and demanded stern action against the anti-social elements.
The accused are identified as Gaurav alias Golu Banmare and a juvenile.
Residents of Bhandar Mohalla, where the victim Tushar Ruplal Patil (43) lives, said Banmarewas an active goon of the area and used to dole out threats to people.
According to police, Tushar Patil went home a 11.30pm on Sunday night after enjoying a biryani party with his friends who had earlier in the day played a cricket match with him. When he was entering his house after parking
his motorcycle, Gaurav and the juvenile arrived near his house and called him out. When Tushar approached them, the accused without any provocation took out a sharp-weapon and stabbed him on his head and chest. Shocked by the sudden attack, Tushar ran for his life and raised an alarm. Resident soft he are a gathered at the spot after hearing his screams. Seeing them mob gathering at the place the accused sped away from the spot. The profusely bleeding Tushar was rushed to the Mayo Hospital. He was provided immediate treatment for a big gash on the right side of the chest and also severe head injuries. His condition is now stable, according to the doctors attending him.
Jaripatka police registered a case under Sections 324 and 34 of Indian Penal Code and arrested the accused.
The residents have demanded stern action against the accused so that no one could dare to attack people man for no reason.
Tushar also tweeted to the Chief Minister and Commissioner of Police stating that his wife and seven-year old son were living in a state of fear after the attack. An officer from the CP office immediately contacted Tushar after the tweet and has assured action against the accused.