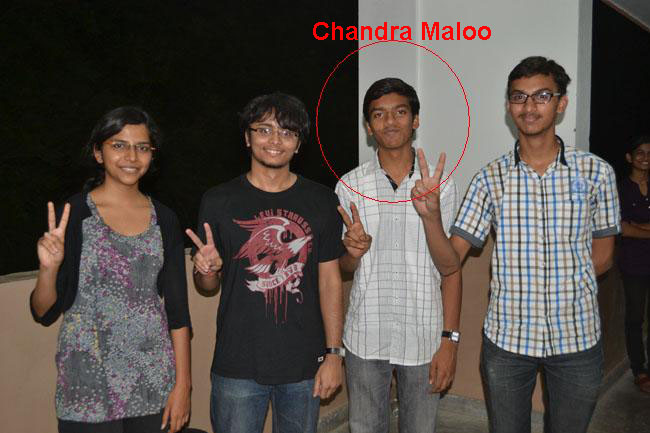 Nagpur News: Chandra Malu, who topped JEE (Mains) in the entire country, defined the buzzword in a best professional way and advised fellow students to compete with their previous performance and not with other students in order to be in top class. This is basic success mantra, Mali said. Malu also achieved 43rd rank in JEE Advanced in all India ranks. Chandra has been selected in IIT Mumbai for Computer Science.
Chandra further said, full and regular study of subject without which to be successful is not possible. Similarly, encouragement from teachers and parents as well from time to time is a must. The examination systems of State Board, JEE Mains, and JEE Advanced were totally different. The students have to be apprised themselves in accordance with the examination systems. Chandra said, initially he felt disappointed but with the help of Neesha Kothari Madam, he was full of confidence. "Timely proper guidance could help fight with all odds," said Malu.
Chandra said, "I never thought of being topper. I passed Class XII examination with 95 per cent marks from Saraswati Vidyalaya in Shankar Nagar. I could achieve 1st ranking with the help of collective maximum marks in State Board exam and JEE Mains marks," Chandra said. The important fact is that those students who totally focused on State Board exam could achieve grand success in JEE Mains. The State Board students won the battle over CBSE students after securing equal marks in Board and JEE exams. The 64-40 criterion of marks put the CBSE student way behind. This time the number of CBSE students securing 90 per cent or above marks was more than State Board students.
A total of 14 lakh students across the country had applied for JEE Mains examination out of which 1.50 lakh students were selected for JEE Advanced. 16 students were shortlisted and were selected for IITs.
GURU-SHISHYA PARAMPARA (TEACHER-STUDENT TRADITION):  Chandra's mother, Pramila Malu, said "Chandra has achieved glory with hard work and determination. The perfect chemistry between Guru-Shishya helped Chandra emerge with flying colours. He wholeheartedly trusted Guru Neesha Madam and completed the study to achieve the goal. That is why Chandra has carved out a place for himself in the entire country," the proud mother said.
LEARNT HUMANITY ALSO: Ashok Malu, father of Chandra, said his hard work and determination bore outstanding fruits. Chandra not only studied his courses but also learnt humanity and a chapter of over all development. This will help in future days, Ashok Malu said.
MERITORIOUS STUDY OUR GOAL: Neesha Kothari, Managing Director of IIT Home asserted that a total of 375 IIT Home students appeared for JEE Mains out of which 302 students were selected for JEE Advanced. 111 students were selected for IITs. Neesha Kothari said, they started the class with 4 students in 1997. Now, the number stands at 300 or more. In the all India top 100 students, 3 students of her class were selected among them. Among the 3 students, Chandra Malu ranked first. "Our goal is not to open more and more batches but the meritorious study for students," Neesha Kothari said.
SUMIT WANTS ADMISSION IN IIT GUWAHATI: Sumit Satish Raka, who secured 93 per cent marks in XII exam, desires admission in IIT Guwahati in Computer Science. Sumit ranked 302nd in the JEE Mains in all India and 1046th rank in JEE Advanced in all India. "I want to be a good citizen of the nation," Sumit said.