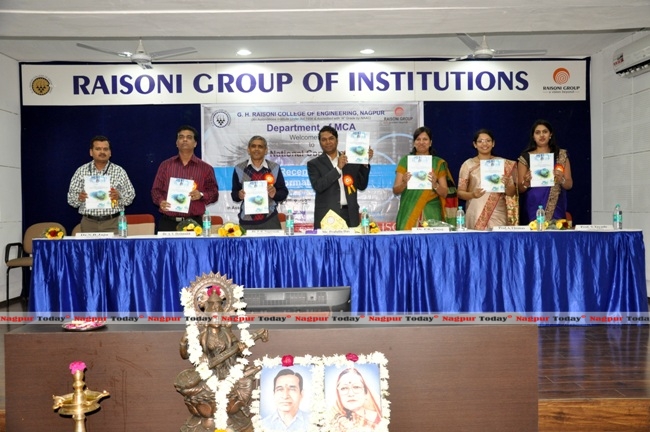 Nagpur Today.
The Dept of MCA of GH Raisoni College of Engg organised a two day conference on the topic 'Recent Trends in Information Security 2014'. The conference got inaugurated at the hands of Deputy General Manager, Raymond Industries Prafulla Das. Dr Preeti Bajaj, Director GHRCE graced the occasion with Deputy Directors Dr PB Nagarnaik & Dr AY Deshmukh, Dean (R & D) Dr Jaju, Convener of NCTRIS Shweta Tayade, HOD MCA Thomas and faculties of the Dept of MCA.
An eye opener inaugural address by Prafulla Das mainly focused on the security threats and recent trends in information security implemented by today's multinational companies. In his keynote he discussed his invention PQL (Pick Query Language) which is very useful for mass data processing in every domain. He also threw light on Portrait Programming for which he received Prime Minister's appreciation. An extensive workshop by EC- Council, Hyderabad professionals focused on different kinds of hacking and approaches used by Security Solution Providers in today's e-world. The topic also highlights the demand of the role of users against the growing complexity of the threats.
Technical papers from all over India namely Gujarat, Pune, Nanded, Amravti, etc which were based on either mini or major projects or research papers were presented in 3 sessions. Out of 41 papers received 39 were presented during the two days. Selected papers will be published in International Journal of Computer Journal, New York, USA. The complete paper submission was handled by using Easy chair. The conference website created by Prof. Nilesh Gupta received more than 600 hits. Org Secretary of NCRTIS'14 Mr. Gopal Sakarkar, Prof. A U Gahankari, Prof. Ghatode, Prof. V Chikhalikar, Prof. Neha Purohit and Prof. Gupta of MCA department worked very hard for the successful and enriching 2 day session.