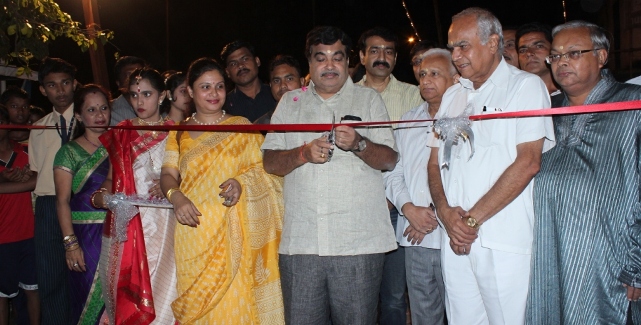 Nagpur News.
Make it a policy not to give permission to persons with political affiliation or to political parties said former President of BJP Nitin Gadkari in his speech at the inauguration of Durga Puja Celebration and Exhibition in the city.  He was addressing the students, parents and other guests who had assemble on the occasion.
Earlier the 103-year-old Durga Puja Celebration and Exhibition organized at Dinanath High School grounds was inaugurated by Nitin Gadkari on October 5, 2013.
Amidst the sound of the blowing of the holy conch, Nitin Gadkari cut the ribbon to mark the inauguration of the exhibition. Banwarilal Purohit broke the shree fal (Coconut) to symbolize the auspiciousness of the occasion. The guests which included Nitin Gadkari, Banwarilal Purohit, Girish Gandhi and Sandeep Joshi were then accorded religious honour by affixing tilak on their foreheads.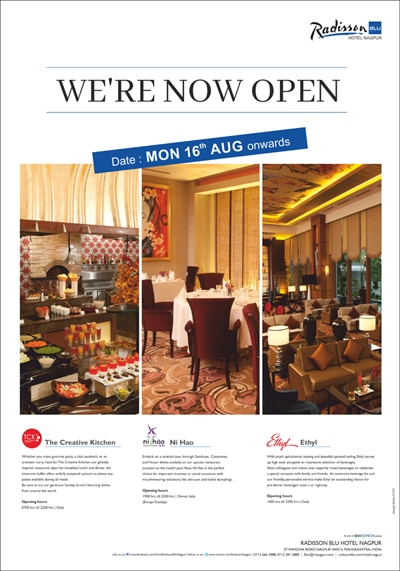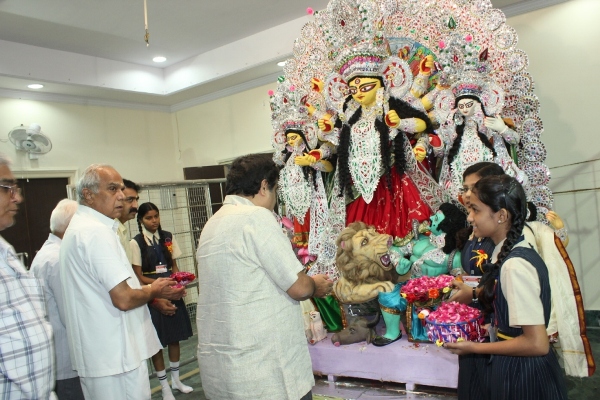 The programme started off with lighting the traditional lamp by the guests and followed by the teachers rendering a welcome song in Bengali "Aje Shonkhe Shonkhe Mongolo Gao…" President of Bengali Education Society Tapan Chakraborthy welcomed the guests and informed that a few dedicated social workers are ably managing three institutions namely Bengali Education Society, Bengali Association and Saraswat Library. In his speech he dispelled the misconception that there are not 300 million gods but only 33 million gods in Hindu religion. He explained how Goddess Durga represents agro-economy and then went on to explain how the onset of Goddess Durga's worship began.
The Guest of honour,  former MLC and trustee of Vanrai and noted environmentalist Girish Gandhi in his address said that Bengali brethren have reached the pinnacle of success in the city and have contributed equally in the development of the city. They have acquired high positions and are providing service to the citizens of Nagpur. In his address he also said that there are people and political parties who claim that only Maharashtrians can stay here and outsiders are not welcome. He said that he would like to inform such people those Bengali brethren though may have come from out of Maharashtra but have become residents of the city and are contributing equally in the development of the city. Nagpur boasts of national integrity as it has welcomed, accepted and incorporated every person immaterial of their regional divide and have woven them into one "Nagpurian". He stressed on the point that in every field Bengalees have left their indelible mark. Even in Marathi theatre, plays and movies Bengali artists and directors have made a significant impact. He was all praise for AB Bardhan who played a vital role in the city.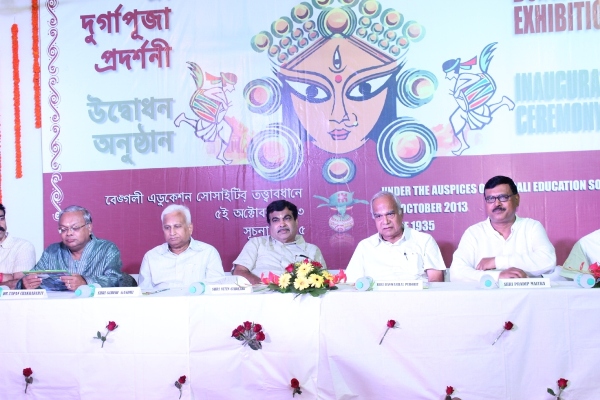 Banwarilal Purohit started with greeting the people on the occasion of Navratri. He said that Goddess Durga is called with different names in different regions and different states, yet Navratri is celebrated with religious fervor throughout the nation. He stated that Durga Puja is celebrated as a Mahautsav only in Kolkata or Bengal.
He said that my earnest prayer to Goddess Durga is to cleanse the nation of Corruption, Injustice and various other sins that have gripped it. To end his speech, he said that when he was MLC he got a chance to speak and he said that he is from Nagpur which is like Orange. Once it is peeled, it opens to a fruit with many carpels yet is bound together. Just like that Nagpur too has many people from varied regions, religions, casts etc, yet is bound together as Nagpurians.
Nitin Gadkari in his speech said that Dinanath has earned a reputation in the field of Education. While lauding the efforts of President of Bengali Education Society Tapan Chakraborthy and his efficient team of Administrator Tripti Gosh, Principal Sunita Roy and the team of teachers who have strived to earn a good name for the school, he also urged them that they should venture into the field of research. He also said that they should start Medical, Engineering Colleges. According to him, Expenditure on Education is an investment on future generations. Somehow, the field of education has lost its value because of privatization. Commercialization of education has also made Education lose its very ethos, which in turn is spoiling the nation. He was of the opinion that political leaders should be kept out of development activities.  He also opined that research on newer fuels and other energy sources should be done. He said that his organization is working on bio tech and taking out fuel from algae. He said that we are a great nation with great minds but very poor people.
Vaishali Gunasekharan conducted the programme, while Jyoita Roy proposed the vote of thanks