Nagpur: Water supply in various localities of North, Central and South Nagpur will remain totally affected on June 19 (Sunday), following a major power breakdown at Navegaon-Khairi raw water pumping station located at Navegaon Khari, around 45 km from Nagpur.
It must be mentioned here that on 17th June (Friday) afternoon due to strong wind and rainfall a major power breakdown occurred at Navegoan-Khairy Headworks pumping station. The Transformer outage 3.3KV HT cable has been severely damaged for which the replacement is the only option..
The repair work, which is becoming difficult due to incessant rain, is being carried out by experts NMC Pench Project Cell which operates & maintains the raw water pumping unit. Till filing this report the repair work was still under progress and expected to be completed by 19th June afternoon.
The raw water for treatment to Pench-IV Water Treatment Plant (WTP) at Godhani and Pench-I, Pench-II and Pench-III WTP's at Gorewada is pumped from Navegaon-Khairy Dam Pumping station which was commissioned recently in April, 2015.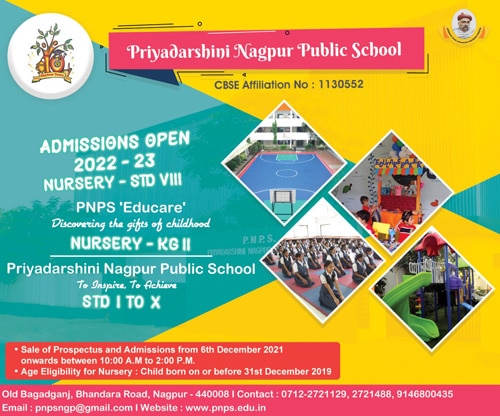 Therefore such breakdown at Khairy Pumping station has a cascading adverse effect on the water supply to the Nagpur City, especially North, Central and South Nagpur.
It may be mentioned here, to normalize the situation developed because of untimely breakdown, as an alternative means NMC-OCW has brought into operation the standby raw water pumping station at Mahadula Headworks.
Mahalia pumping Station lifts water from Right Bank Canal (RBC) on Navegaon-Khairi dam , which presently has insufficient water and hence 75Cusec of additional water has been released by the water resources Department(WRD) from Navegaon-Khairy Headworks. Also, the water released into the Kanhan River from 19.4 Km chainage on RBC has been diverted towards Mahadula Pumping station.
As this released and diverted water will reach at the suction mouth of Mahadula earliest by June 19 mornings, the required raw water pumping from Mahadula Headworks can only done from 19th June, 2016 Due to such major power failure at Navegaon-Khairy Pumping Station the areas fed by Express feeder will get very less or no water supply.

No Water: The command areas which will remain totally affected on June 19 , Sunday are Nara ESR , Nari ESR, Jaripatka ESR, Civil Lines supply line, Srinagar supply line, Dhantoli ESR, Mhalghi Nagar ESR and Omkar Nagar ESR.
Limited & Low Pressure Water: Following this the Governor House Master Balancing Reservoirs (MBR) will also not be able to achieve required water levels , hence Command areas of Boriapura feeder main, Wanjari Nagar ESR , Resimbagh ESR, Bazonbagh ESR, Indora ESR I, II, Hanuman Nagar, Raj Nagar and Sadar command area will receive restricted and low pressure water supply.
It must be mentioned here that the above mentioned areas could not receive water supply today on June 18 (Saturday) following the same reason. The inconvenience caused to citizens of North, Central and South Nagpur is deeply regretted.
For further information related with water citizens can contact OCW Toll Free No: 1800-266-9899 anytime.