Major mishap averted, school bus having 30 students kept swinging on the bridge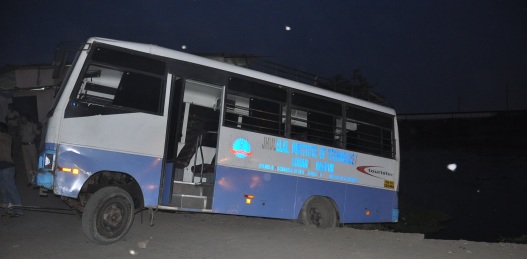 Nagpur News:
A major mishap was averted after the breaks of Jhulelal Institute of Technology bus carrying 30 students stopped functioning and the bus hit on the compound wall of a short bridge near Vandevi Nagar on Tuesday evening.
Yashodhara Nagar Police told that the bus belongs to Bharat Vidyalaya in Teka Naka. The bus was heading to Kamptee road when the driver found that the brakes are not functioning. He tried to drive the bus sideways but its rear wheels get down off the bridge and the bus kept dangling for around 15 minutes. The span of few minutes had panicked and frightened the students, bus driver and the passers-by. The bus kept dangling on the bridge. The students screamed and shouted for help whenever the bus would move. After few minutes, some students who were seating in the front ran out and those who were in the rear were rescued carefully by the passers-by and nearby people.
Suresh Talwekar, corporator of Garib Nawaz Nagar, claimed that the bus driver seems to be drunk. He even blamed the poor construction of road and bridges on short width responsible for the accident