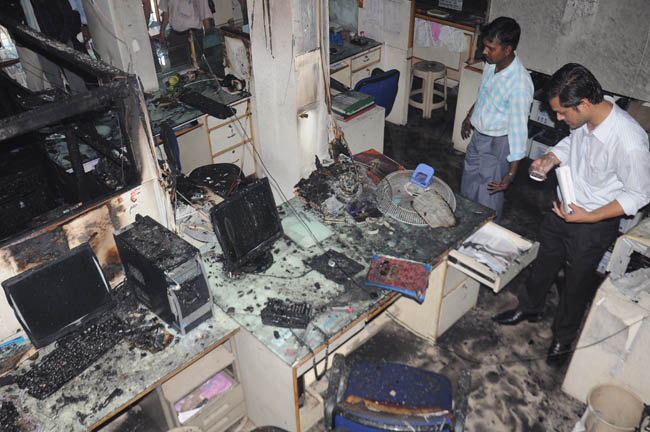 Nagpur News: A major fire that broke out in Sadar Branch of Syndicate Bank devoured computers and very important documents that could create gigantic problems for the bank in the coming days.
According to fire Brigade sources, the fire broke out at about 8 am most probably by short circuit. Four fire tenders which were dispatched to the spot brought the fire under control. Since the fire erupted in the early morning  hours no higher official of the bank was present. When the Bank's peon came to the Bank to open it for routine functioning, he saw smoke billowing from the bank. He immediately informed the higher ups and also the Fire Brigade. The four fire tenders the Fire Brigade sent to the spot brought the fire under control with great efforts.
The fire destroyed dozens of computers, some cash and important documents worth lakhs of rupees. This bank starts working from 9.30 am and therefore several customers had arrived at the branch but the customers found themselves helpless as the computers destroyed in the fire also wiped out the data stored in the bank. The important loan documents, too, were reduced to ashes thus making it difficult for bank authorities to deal with loans it had given to many persons from various fields and incur a collective loss in crores.
The Bank has hundreds of customers from West Nagpur and transactions worth lakhs and lakhs of rupees were conducted daily. The customers having amounts in their accounts on varying degrees would certainly face a mountain of problems in the coming days. The fire will hit those customers who had not updated their passbooks hard. The police from Sadar and Gittikhadan Poloce Stations also reached the spot for an investigation.