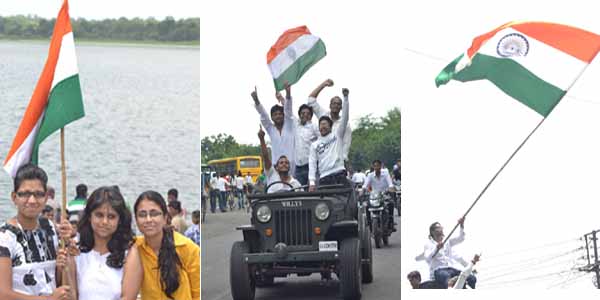 Nagpurian with entire India celebrated its 67th Independence Day amid tight security on Thursday.Thousands of security men armed with sophisticated weapons were deployed in City to prevent any possible militant strike on Independence Day. The security men had set up barricades at sensitive places and were keeping a close watch on the movement of people.
Guardian Minister Moghe unfurls Tricolour at Nagpur Divisional Commissioner's office
The Guardian Minister Shivajirao Moghe unfurled the National Flag at the main function of Independence Day celebrations held at sprawling Divisional Commissioner's Office premises at 9 am with patriotic fervor. Moghe also took the salute from different security forces like Nagpur Police, SRPF, Women Police and Dog Squad. The Police Band, with the tunes patriotism was an attraction of the celebrations.
The Independence Day celebration at the Divisional Commissioner's office was attended by top Government officials including Divisional Commissioner V, Gopala Reddy, Collector Saurabh Rao, Police Commissioner K K Pathak and other officials.