Nagpur: Mahindra Bloomdale – a township by Mahindra Lifespaces in Nagpur – the so called premium township in Mihan has hogged the limelight yet again, this time for all the wrong reasons. Hordes of customers have been complaining of the poor quality of construction of the flats that have been delivered to them. Big cracks and holes have appeared on the walls while series of other issues like low quality railing, low grade concrete and water seepage have also been reported in Mahindra Bloomdale. It is learnt that the work has also been stopped for six months allegedly due to dispute between the project's contractor and owners.
Most of the customers who have been given possession of their flats and duplexes in Mahindra Bloomdale are reportedly feeling cheated and disgusted over the poor quality product they received. "We have blindly trusted Mahindra Bloomdale and willingly paid the prices more than existing prices at that time, just to ensure the quality of construction as well as quality of life. But this has certainly made our lives hell and shattered all our hopes and trust in brand Mahindra," says Rahul Bhangadia, whose closed duplex has got severe cracks at many places and even a big holes around the doors.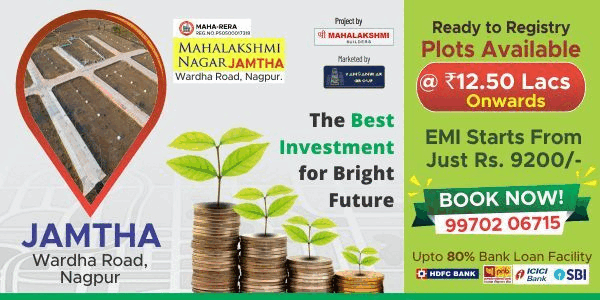 Rahul Bhangadia, a resident of Mumbai, has been planning to shift his base to Nagpur and hence booked a duplex in MahindraBloomdale in 2012, in anticipation that he would get the best quality construction. Bhangadia was given the possession in January 2016. His duplex has been lying unoccupied since then. Recently when he went up to check his duplex he found several damages – cracks and holes appearing in walls.
Bhangadia told Nagpur Today, "When an unoccupied house is getting into such a condition and that too within one and half year, how come anyone expect it to last for 30-40 years, the least time life of any house is considered."
Bhangadia was heavily disappointed when he got to see such a condition of his house. When he reported the issue to the project incharge Anuj Dwivedi, he assured him that they would get it fixed. However Bhangadia said that just fixing it would not bring the resolution. "What if I suffer another major construction issue after three years? This clearly signals the quality of material used in the construction," he said.
Not only Bhangadia, similar is the situation of all the owners who are coming up with some or the other issues pertaining to the construction.
"Nobody would have a fraction of doubt about quality in his or her mind while buying the properties at Mahindra Bloomdale as they least expected any such event in the wildest of their dreams. But this has happened and now the cracks are staring at us like a naked truth. It is also a serious form of fraud. We doubt how long such a construction would last and whether we really would be safe living in such pathetic house," laments another customer who wish not be named.
Meanwhile, Bhangadia has taken to Twitter to voice his concern. He has even posted a picture of his house which received big cracks from inside when it was locked.
He tweeted, "Dear @anandmahindra @AArjundas 1 yr old construction in Bloomdale Nagpur in a closed house. As per last info..there was no earthquake there."
Dear @anandmahindra @AArjundas 1 yr old construction in Bloomdale Nagpur in a closed house.
As per last info..there was no earthquake there. pic.twitter.com/0ZFAJF0w1s

— Rahul Bhangadia (@aarembee) June 8, 2017
Bhangadia also posted a video tweeting, "Sir @anandmahindra …. a small video of the same…maybe the photo was not good enuf."
Sir @anandmahindra …. a small video of the same…maybe the photo was not good enuf. pic.twitter.com/geXLjNLdOt

— Rahul Bhangadia (@aarembee) June 9, 2017
Contractor-Owner dispute leaves customers in lurch
Sources informed that for the past six months construction work at Mahindra Bloomdale has been stopped and all the development activities in the township have come to grinding halt. "There has been a serious dispute going on between the contractor and the promoters. This tussle however has put the customers in lurch as they are not being given possession as promised. They are well beyond their deadlines and no clear word has come from their side as to when they would give possession," said a source.
When Nagpur Today called Anuj Dwivedi, Project Incharge at Mahindra Bloomdale Nagpur to clarify their stand, he refused to comment saying that media matters are being handled by the corporate and he was not the right person to comment. He also bought time to respond and assured a call back with the contact number of concerned person in the company.
Later we received a call from Kapil Kulkarni who represents Mahindra Lifespaces' PR agency called AdFactors. Kulkarni later mailed us statement of company's statement.
The official spokesperson in its statement wrote, "The dispute raised by the main construction contractor is presently subjudice hence, we are unable to comment on it. The Company is taking all necessary steps to protect interests of its customer & its own and pushing for a resolution of the matter at the earliest. Customer satisfaction and quality are our utmost priorities and we have already handed over 300 units to customers thus far. Any quality issues brought to our attention by our customers are addressed with urgency."
However the clarification failed to explain what brought the quality of construction to hit super low. Sources informed that one of the reasons behind dispute between the contractors and owners pertain to quality of construction also. Meanwhile, the customers are forced to face the wrath of ongoing dispute.