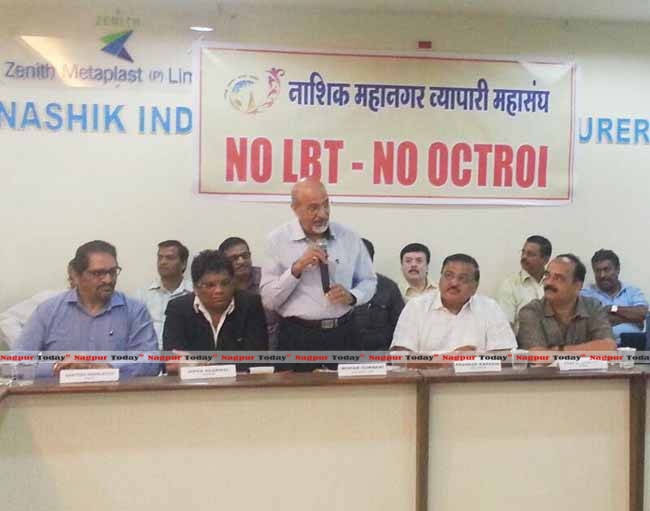 Nagpur News: Traders all over Maharashtra are agitating against Local Body Tax (LBT) since Last one year. Federation of Association of Maharashtra had called for a meeting at Nasik organised by VyapariMitra Kolhapur hosted Nasik VyapariMahasangh on 28th January, of all 26 corporations where L.B.T. has been imposed, to decide on further course of action for withdrawal of LBT from Maharashtra State in view of rigid and adamant stand of the Chief Minister of Maharashtra on LBT. The meeting was well attended by representatives of all 26 corporations. There was a detailed discussion on how to take our movement forward against LBT. Afterhaving a thread bear discussion on the issue, it was unanimously decided that:-
1. Traders in the State would not Vote for the Party who supports & to this effect all present took a pledge jointly.
2. A MahaSabha of Traders from all over the State to be held at Azad Maidan, Mumbai on 21st February 2014 at 2.00 p.m. " Chalo Mumbai" with this slogan traders from all over the state will reach Mumbai in trains & buses to participate in MahaSabha on large numbers.
3. A slogan displaying the sentiments of traders and citizens of State against LBT and Vote to be put on each and every shop/establishment of the State.
The Dias was shared by Sarvashri Mohan Gurnani, President, FAM, Dipen Agrawal, President, NVCC, PradeepKapdia, Past President, Kolhapur Chamber of Commerce, PraffulSancheti President Nasik VyapariMahasangh&SantoshMandlecha VP Maharasthra Chamber of Commerce. Prominently present we're Sarvashri Ajay Shah and ManojRathi, Aurangabad, Khemji Patel and Nitin Bang, Dhule, NileshLodha, BhushanBhosale and ShabbirBhai, Malegaon, Ashok Rathi and Ajay Modi, Amravati, Raju Rathi, Sholapur Chamber of Commerce.
Dipen Agrawal, President, NVCC informs that an Emergent meeting of Nvcc formed LBT Virodhi Sangrash Samiti has been organized on Friday the 31st January, 2014 at 6.00 p.m. in the Meeting Hall of the Chamber. He appeals all the members of the Executive Committee, Presidents and Secretaries and Representatives of All Trade Associations to attend the meeting positively to discuss & decide on the FAM's call against LBT,states in a Press Note issued by Hemant Gandhi, Hon. Secretary of the Chamber.