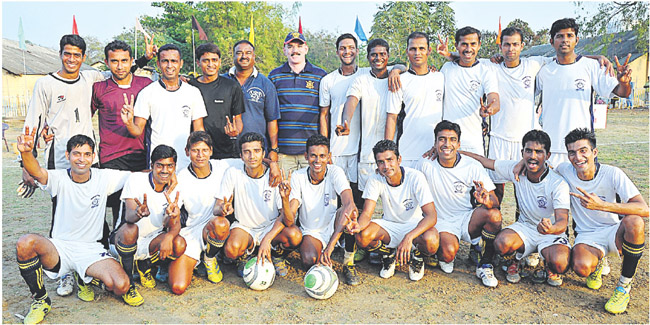 Nagpur News: Riding on Abdul Jafar's late goal, Maharashtra Police pipped MEG Bangalore 1-0 to win All India Loco Soccer Tournament which was organised by Central Railway Institute at Ajni ground on Sunday.
When the match was heading towards a tie-breaker, Abdul Jafar scored the winning goal on solo effort. MEG goalkeeper Amit Shaw tried his best to save but in vain. The final match witnessed a controversy during an injury time. Maharashtra Police defender brought down Jiten Metei inside the penalty area. As a result MEG Bangalore demanded penalty to match referee Clive Anthony. But the referee refused it and blew the long whistle. In the process some players argued with referee and even refused to attend prize distribution function. However the organisers intervened and controlled the situation. But very few players seen during the concluding ceremony.
Earlier in first half Bangalore forward Lokeshwar missed an open net as his shot sailed above the cross bar. Maharashtra Police also missed two chances. First in the 13th minute Yukti Thombre missed the target on Abdul Jafar's pass.
Then in the 25 th minute, Azhar Sheikh's free kick sailed above the cross bat. After a change of ends once again Jafar was unlucky as MEG custodian brilliantly saved the header of Jafar on Thombre's pass. Then in MEG wasted two opportunities. Vinit and Deepen Thapa were the culprits.
CMD of MOIL GP Kundargi was the chief guest of prize distribution function. Controller General of Indian Bureau of Mines CS Gundewar, president of Central Railway ECC Society, Mumbai Nitin Pradhan, tournament committee president Sukhwinder Singh Siddhu and tournament committee secretary Vijay Ragde were also present on the occasion.
Individual prizes
Best forward: Mohammad Habib (Rabbani Club),best half: Hardik Kanojia (Nagpur Blues), best defender: Jagmit Singh (GRP Kamptee), best player of final: Jiten Metei (MEG Bangalore), Abdul Jafar (Maharashtra Police) All-India Loco Soccer Jafar scores all-important goal